Abstract
To address the problems of serious tool loss and the easy deformation of aero-rotor blade profiles in NC milling technology, electrochemical machining can realize the processing of complex, specially structured products with advanced materials such as nickel alloy Inconel®718 by means of a non-contact electrochemical etching process. In this paper, by analysing the electrochemical reaction state of Inconel®718 alloy in vertical electrolytic processing, the electrolyte side flow of aero-blade electrochemical machining technology is innovatively transplanted to the traditional vertical single-axis feed machining tool, and the corresponding optimized flow channel structure that combines the characteristics of positive flow mode and side flow mode are proposed. Then, the verification test shows that the vertical machining of aero-blade with the characteristics of positive flow and side flow of electrolyte has high machining quality, and its surface error is in the range of 0.02–0.12 mm (the average surface error can reach 0.07 mm), the corresponding surface roughness is 1.16 µm. Therefore, the research foundation and technical potential are laid for the vertical electrochemical machining of the aero-rotor blades.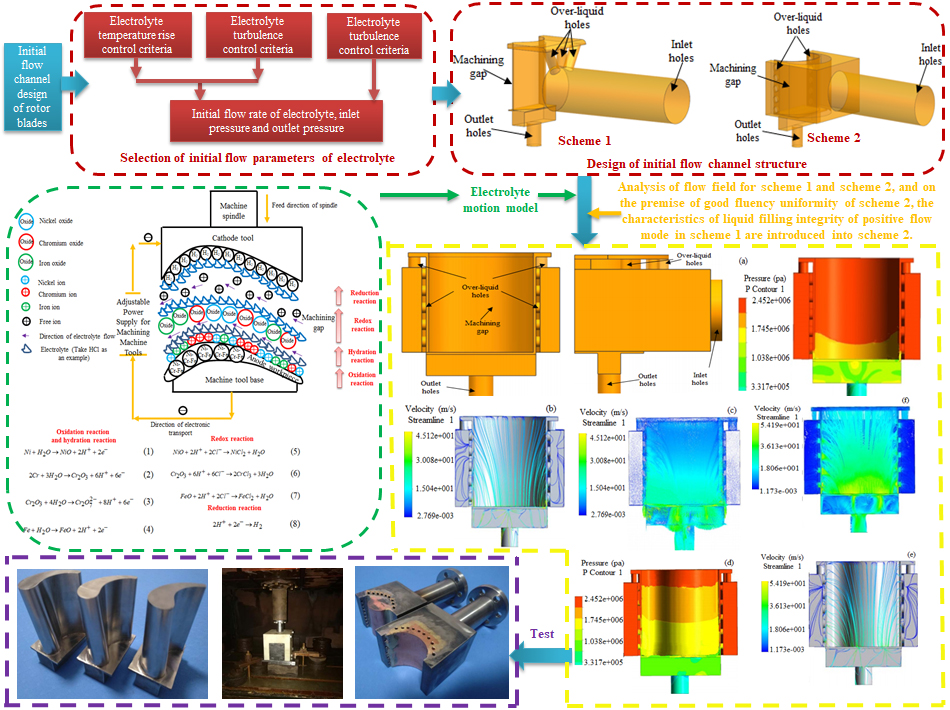 © The Author(s) 2021. Published by ECSJ.

This is an open access article distributed under the terms of the Creative Commons Attribution 4.0 License (CC BY, http://creativecommons.org/licenses/by/4.0/), which permits unrestricted reuse of the work in any medium provided the original work is properly cited. [DOI: 10.5796/electrochemistry.21-00025].
http://creativecommons.org/licenses/by/4.0/