Abstract
The performance of a sodium-ion (Na) battery is significantly influenced by its electrolyte characteristics. In particular, the transport properties of the electrolyte have considerable effects on the discharge rate capability. During discharging of a Na battery at high current densities, a concentration gradient of Na salt develops because both cations and anions are mobile in the liquid electrolyte. Concentration polarization can be suppressed by increasing the Na+ transference number (tNa+) of the electrolyte. This study demonstrates that highly concentrated NaN(SO2F)2 dissolved in 3-methylsulfolane (MSL) exhibits a high tNa+ value of >0.6 under anion-blocking conditions. Raman spectroscopy revealed that Na+ ions formed complexes with MSL and anions in the electrolyte. Na+ ions exchange ligands dynamically and move faster than the ligands, resulting in a high tNa+. The high tNa+ enables a high-rate discharge of the Na battery, despite the low ionic conductivity of the highly concentrated electrolyte.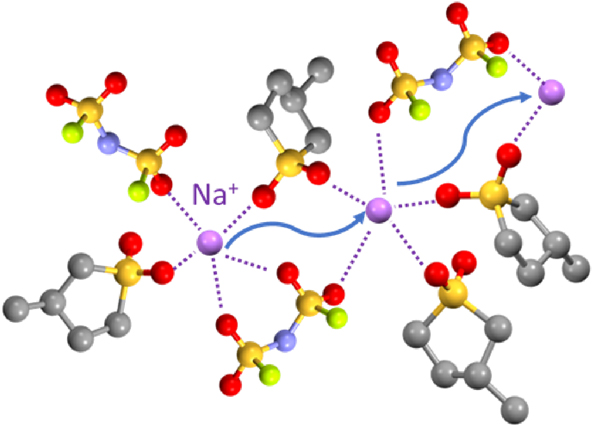 © The Author(s) 2021. Published by ECSJ.

This is an open access article distributed under the terms of the Creative Commons Attribution 4.0 License (CC BY, http://creativecommons.org/licenses/by/4.0/), which permits unrestricted reuse of the work in any medium provided the original work is properly cited. [DOI: 10.5796/electrochemistry.21-00095].
http://creativecommons.org/licenses/by/4.0/