Abstract
Ni-doped covalent triazine frameworks (Ni-CTF) has been known as an efficient electrocatalysts that achieve conversion of carbon dioxide (CO2) to carbon monoxide (CO) with the faradaic efficiency (FE) exceeding 90% in neutral electrolytes. Here we report that the FE can reach 60% even in acidic electrolytes, where the hydrogen evolution can proceed competitively, by loading Ni-CTF on gas diffusion electrode (GDE). In the presence of Zn(II) ions, zinc hydroxide analogues that can be formed only in alkaline conditions were deposited on the GDE during the CO2 reduction in an electrolyte with a bulk pH of 2. On the other hand, when a normal plate electrode (PE) was used, the FE was only 1.2% in an electrolyte with the same pH, and the zinc hydroxide analogues were not formed. These results indicate that the local pH around GDE increased during the cathodic process, which led to an increasing FE of CO2 reduction even in an acidic electrolyte.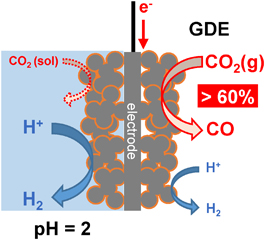 © The Author(s) 2020. Published by ECSJ.

This is an open access article distributed under the terms of the Creative Commons Attribution 4.0 License (CC BY, http://creativecommons.org/licenses/by/4.0/), which permits unrestricted reuse of the work in any medium provided the original work is properly cited. [DOI: 10.5796/electrochemistry.20-64036].
Uploading "PDF file created by publishers" to institutional repositories or public websites is not permitted by the copyright license agreement.
http://creativecommons.org/licenses/by/4.0/