Abstract
The fabrication of low-temperature waste heat power conversion modules will require the development of thermoelectric materials based on mass-produced nanotubes such as super-growth carbon nanotubes (SGCNTs), rather than high-quality nanotubes generated on the laboratory scale. In this work, SGCNT films co-loaded with colloidal ZnO (which has a high Seebeck coefficient) and Ag (which enhances electrical conductivity) were prepared to optimize both carrier concentration and mobility. The resulting carbon-based hybrid films were found to have a p-type power factor of 100.4 µW m−1 K−2 at 383 K, which represented one of the highest values yet reported for a SGCNT system.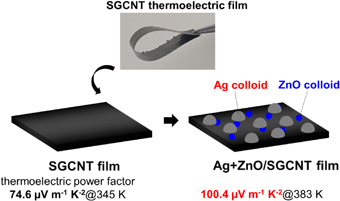 © The Author(s) 2020. Published by ECSJ.

This is an open access article distributed under the terms of the Creative Commons Attribution 4.0 License (CC BY, http://creativecommons.org/licenses/by/4.0/), which permits unrestricted reuse of the work in any medium provided the original work is properly cited. [DOI: 10.5796/electrochemistry.20-64067].
Uploading "PDF file created by publishers" to institutional repositories or public websites is not permitted by the copyright license agreement.
http://creativecommons.org/licenses/by/4.0/