Abstract
The effect of mutation on the redox potentials (E°′) of the heme moieties in the variants of d-fructose dehydrogenase (FDH) was investigated by mediated spectroelectrochemical titrations. The replacement of the axial ligand of heme from methionine to glutamine changes the E°′ value more negatively than that of the corresponding heme moiety in the recombinant (native) FDH (rFDH). The determined E°′ values of non-targeted heme moieties in the variants were also shifted in a negative direction from that in rFDH. Thus, enzyme modification changes E°′ of the heme moieties in unmodified protein regions.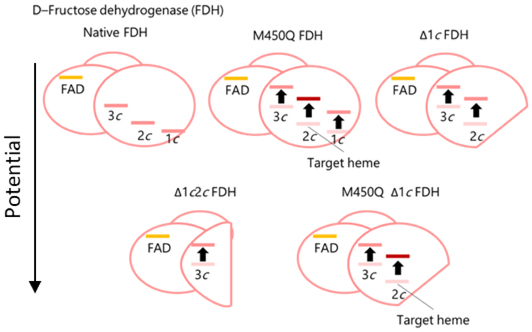 © The Author(s) 2021. Published by ECSJ.

This is an open access article distributed under the terms of the Creative Commons Attribution 4.0 License (CC BY, http://creativecommons.org/licenses/by/4.0/), which permits unrestricted reuse of the work in any medium provided the original work is properly cited. [DOI: 10.5796/electrochemistry.21-00044].
http://creativecommons.org/licenses/by/4.0/