Abstract
An oxide-ion-conductor-based oxygen pumping system can serve as an on-site oxygen separation system. Herein, we present the oxygen permeation capability of a Pt electrode/La-Sm-doped CeO2 (L-SDC) intermediate layer/c-axis-oriented La9.66Si5.3B0.7O26.14 (c-LSBO) solid electrolyte cell. A significant increase in the oxygen permeation flux is observed on applying a DC voltage of ≥4 V at temperatures <600 °C. A remarkably high flux of 5.2 mL cm−2 min−1 is obtained even at 500 °C. Furthermore, in situ X-ray diffraction studies under applied voltages reveal an increase in the lattice constant of L-SDC, accompanied by a drastic increase in the oxygen permeation flux, indicating the reduction of Ce4+ and formation of oxygen vacancies. These results suggest that the observed change in L-SDC under the applied voltage results in the in situ formation of a mixed electron- and oxide-ion-conducting L-SDC electrode, indicating that the oxygen reduction reaction and incorporation is significantly enhanced.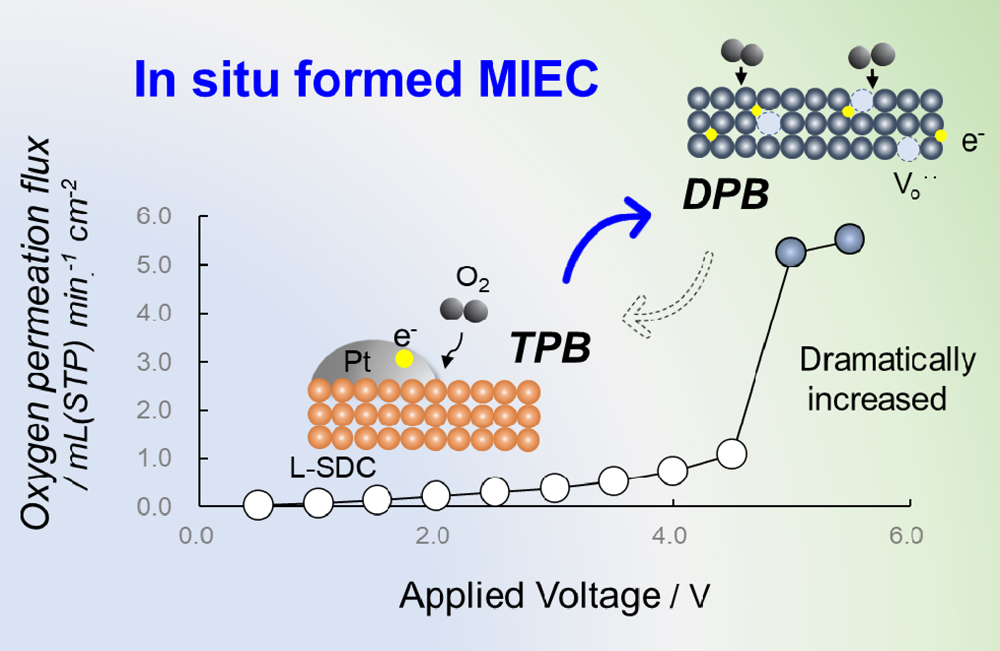 © The Author(s) 2021. Published by ECSJ.

This is an open access article distributed under the terms of the Creative Commons Attribution 4.0 License (CC BY, http://creativecommons.org/licenses/by/4.0/), which permits unrestricted reuse of the work in any medium provided the original work is properly cited. [DOI: 10.5796/electrochemistry.21-00057].
http://creativecommons.org/licenses/by/4.0/