Abstract
Renewable energy resources and rechargeable batteries are key to establishing a carbon-neutral society. Lithium-ion batteries (LIBs) have been widely used in portable electronic devices for the past 30 years. However, the further spread of large-scale batteries is essential in the household and industrial sectors, which drives the research and development of technologies beyond LIBs. Since ionic liquids are safe and confer unique physicochemical properties, several next-generation batteries utilizing ionic liquid electrolytes have been researched. Sodium-ion and potassium-ion batteries show promise in overcoming the potential problems of LIBs related to the uneven distribution of lithium and cobalt resources. Fluoride-shuttle batteries deliver significantly higher theoretical energy densities compared to current LIBs. Nevertheless, many issues remain unresolved for the practical application of these batteries. This comprehensive paper provides several research topics on next-generation rechargeable batteries utilizing ionic liquids and various charge carriers, unveiling their novelty, the issues to be solved, and future research directions.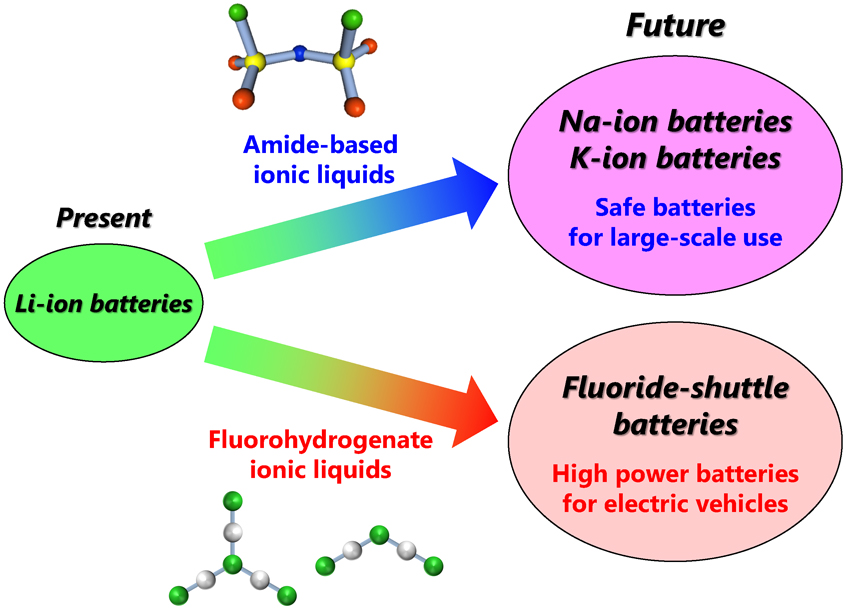 © The Author(s) 2022. Published by ECSJ.

This is an open access article distributed under the terms of the Creative Commons Attribution-NonCommercial-ShareAlike 4.0 License (CC BY-NC-SA, http://creativecommons.org/licenses/by-nc-sa/4.0/), which permits non-commercial reuse, distribution, and reproduction in any medium by share-alike, provided the original work is properly cited. For permission for commercial reuse, please email to the corresponding author. [DOI: 10.5796/electrochemistry.22-00073].
http://creativecommons.org/licenses/by-nc-sa/4.0/