Abstract
An unidentified foodborne disease associated with the consumption of raw fresh fish was noticed from 1999 in the West of Japan. In 2010, a novel multivalvulid parasite, Kudoa septempunctata (Myxozoa: Myxosporea) was discovered as being the causative agent of this disease and the Ministry of Health, Labour and Welfare of Japan (MHLW) named this disease "Kudoa food poisoning". Kudoa septempunctata is a myxosporean with 6–7 polar capsules and shell valves in a spore. The life-cycle of K. septempunctata has not been elucidated yet. However, it probably involves an alternative invertebrate host such as polychaetes without direct transmission between fish. An epidemiological study elucidated that the main symptoms of "Kudoa food poisoning" are transient vomiting, diarrhea, abdominal pain and vomiting due to gastrointestinal mucosal disruption, most of which could be recovered within 24 h. The threshold for the onset of symptoms is estimated at about 7.2 × 107K. septempunctata spores per person based on an epidemiological calculation of a large-scale outbreak that occurred at Ehime prefecture. In a toxicological study, oral administration of 1 × 107 spore/g live K. septempunctata induced the acute accumulation of fluid in the gut of suckling mice and vomiting in house musk shrews (Suncus murinus). K. septempunctata decreased transepithelial resistance in a cultured human intestinal cell monolayer, resulting in a rapid increase of permeability. These pathogenic actions of viable Kudoa spores elicit symptoms in human patients. Regarding analytical methods, PCR amplification of species-specific genes and microscopic observation of characteristic spores are the best methods of choice for characterizing this parasite. To prevent the disease, heating at 95 °C for 10 min or freezing at −80 °C overnight is effective while a recent study demonstrated that liquid freezing is a more practical method. Fundamentally, the biological study of K. septempunctata including its life-cycle, alternative and invertebrate hosts is necessary for eradicating them. Realistically, monitoring of domestic flounder in farm and imported one in the quarantine should be useful.
From the available literature, K. septempunctata appears to be a unique parasitic agent that induces foodborne diseases by invading the human intestinal mucosa but does not persist long enough in the tissue for further growth, eliciting a temporal increase in mucosal permeability. Further investigations are needed to elucidate the interactions between this myxosporean parasite and human tissue.
Figures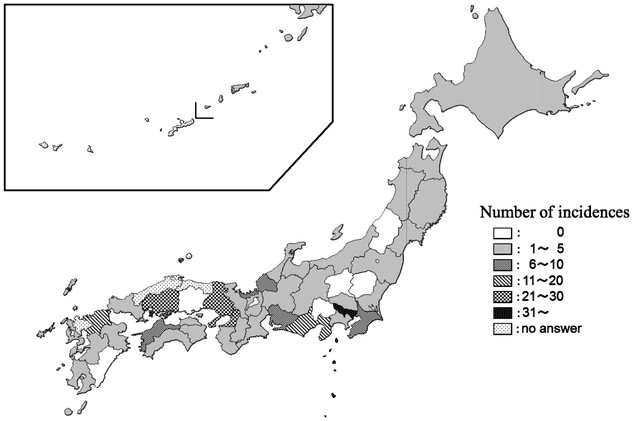 Fig. 1.
Occurrence of "the unidentified food borne disease" in 2009 in Japan (Cited and modified from Yoshioka and Sone, 2012 with permission).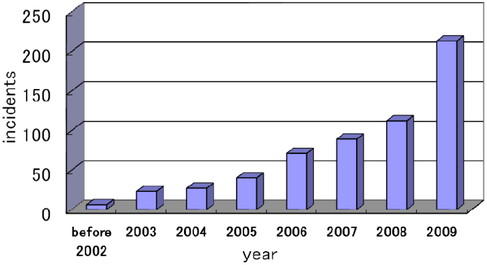 Fig. 2.
Annual changes in the occurrence of "the unidentified food borne disease" until 2009.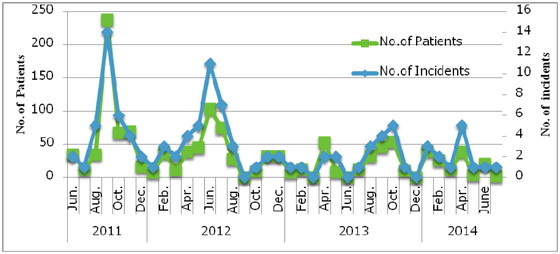 Fig. 3.
Annual and monthly changes of numbers of patients and incidents of "Kudoa food poisoning".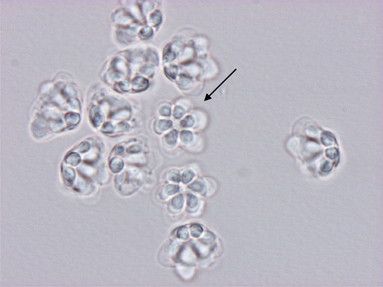 Fig. 4.
Spores of K. septempunctata. The arrow indicates a shell valve.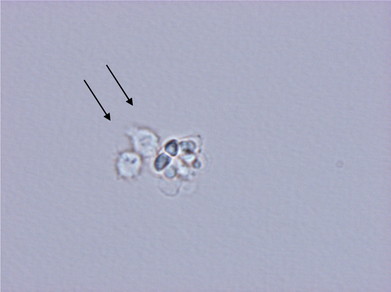 Fig. 5.
Release of sporoplasms from spores. Arrows indicate amoeba-like sporoplasms.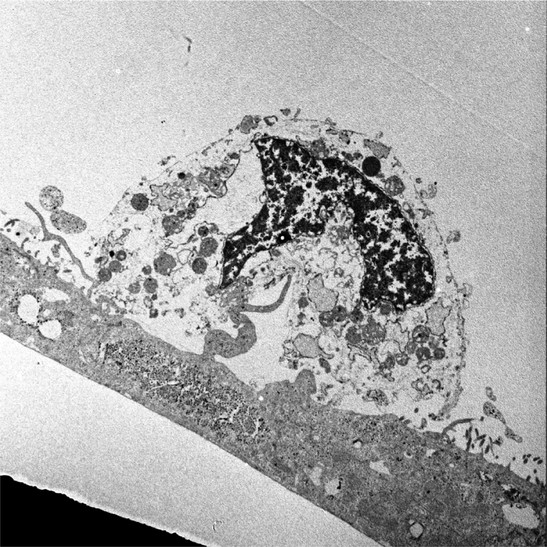 Fig. 6.
Transmission electron microscopy of a sporoplasm of K. septempunctata on a cultured human intestinal cell monolayer.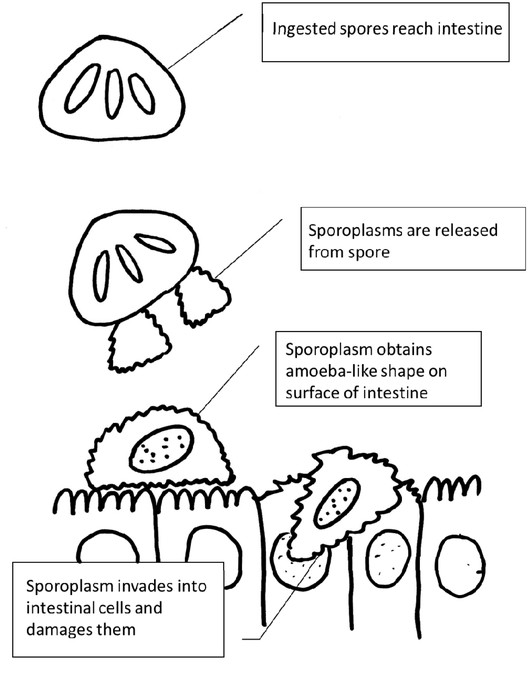 Fig. 7.
The mode of action of Kudoa septempunctata.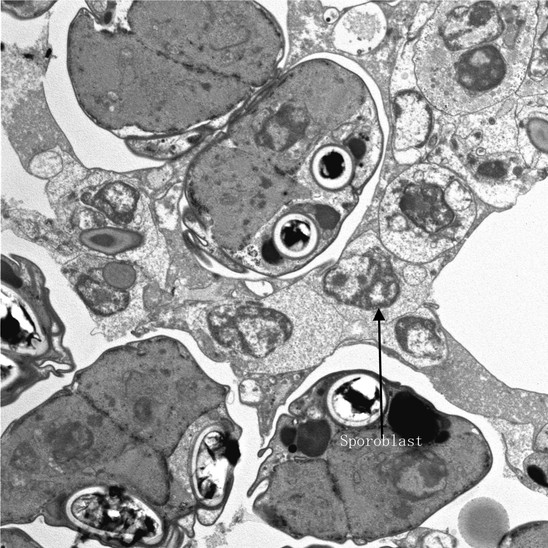 Fig. 8.
Transmission electron microscopy of a K. septempunctata plasmodium in olive flounder muscle. Developed spores are found among sporoblasts (arrow).