Abstract
The wettability behavior and undercooling of molten steel on single crystal Al2O3 and MgO substrates in a reduced Ar–H2 atmosphere were investigated by using a sessile drop method. The results showed that there is no reaction layer formed at the steel/substrate interface when the oxygen partial pressure is at 10−25 atm, and the contact angle and undercooling degree show the maximal values. With the increase of oxygen partial pressure, the segregation of Si, Mn and the formation of a complex-oxide layer at the interface could be clearly observed; thus the wettability was great improved for both systems, also the contact angle and undercooling degree decreased. The thickness of the reaction layer was expanded with the increase of oxygen partial pressure, which increased from 0.8 µm to 31 µm for Al2O3 substrate, and from 62 µm to 280 µm for MgO substrate, suggesting that the interfacial reaction was getting intensive with the addition of oxygen partial pressure. The results also indicated that the MgO shows a better wettability with molten steel and is more effective for the induction of heterogeneous nucleation.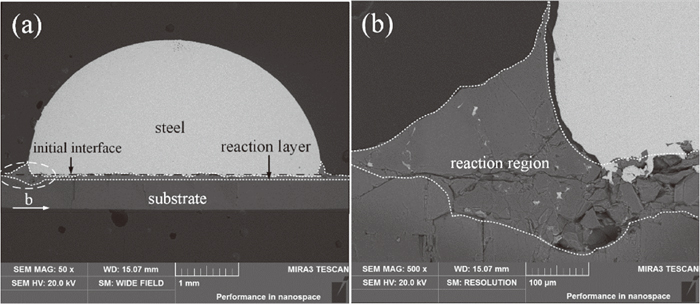 Cross-section view of the interface between droplet and MgO (100) substrate with oxygen partial pressure at 3.63×10
−23
atm: (a) general view of the droplet, (b) details of the reaction region at the triple point of gas/steel/substrate.
Fullsize Image