Abstract
The reductions of titania-ferrous solution ore (TFSO) ranging from 800°C to 1100°C temperature and 10 to 100 vol% H2–Ar gas mixture were conducted to account for the optimization of reduction parameters, the phase transition behaviors and solid solubility changes with Fe and Ti elements segregation and enrichment, and the micro morphology features in reduction process. 40 vol% of hydrogen in reducing gas, as well as 900°C reaction temperature was the suitable parameters when simultaneously considering the growth of reduction rate and the reasonable economy cost. The reduction of Fe3O4 contained in titanomagnetite (TTM) was proceeding earlier than that of ulvöspinel (Fe2TiO4), even though Fe2TiO4 was also the ingredient of TTM. The initial ilmenite was reduced quickly at primary stage, after that, there were also newly born ilmenite which experienced accumulation and vanishment, along with transformation of Fe2TiO4 and ferropseudobrookite (FeTi2O5). Although TiO2 was appeared as early as 5 min, the low valence titanium (Ti3O5 and Ti2O3) were just observed at the end of reduction, and it was mainly because of the existence of iron oxide, resulting in the weak reduction potential to the titanium oxide. For the non-homogeneous TFSO particles, the lamellas showed a harder reducibility than the substrates and a different priority reduction positions in terms of the central and the edge. For the homogeneous TFSO particles, the reduction was carried out in an outside-in way, which was preferential along some interphase strips that had a lower gangue elements distribution.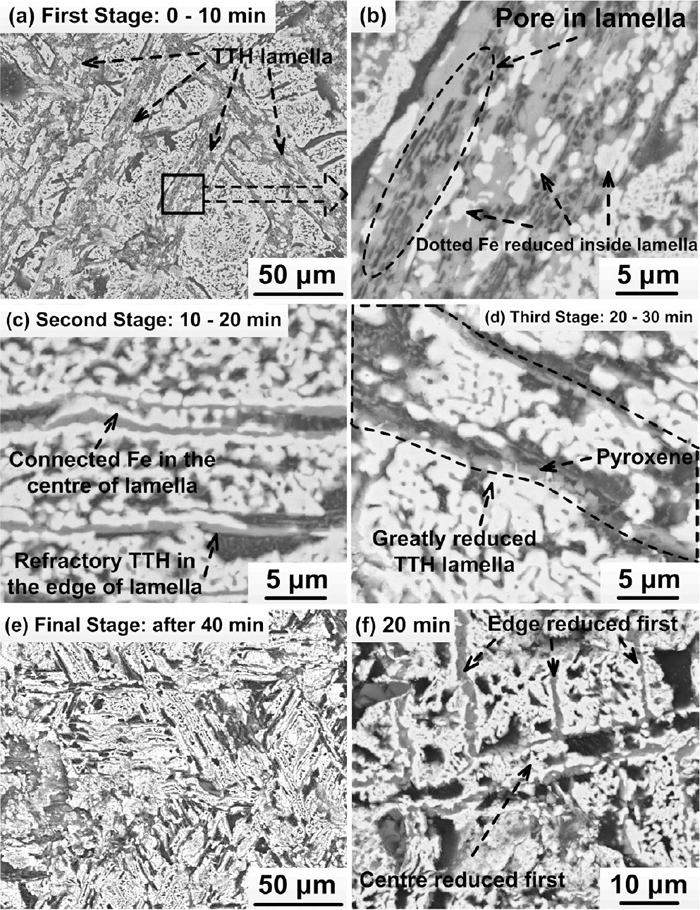 The microscopic composition change of one kind of TFSO particle (non-homogeneous particle with lamella TTH phase exsolved from substrate) during reduction process in 100 vol% H
2
atmosphere at 900°C for different time. These kinds of lamellas were firstly reduced from the center position forming the pore and dot reduced Fe.
Fullsize Image