Abstract
The main objective of the present work was to investigate the forced wetting of a partly oxidized steel by a liquid Zn–Al (0.2 wt.%) alloy. The wetting experiments are performed by means of the dispensed drop technique. The wetting is shown to be reactive with the formation of Fe2Al5Znx. The evolution of the contact angle and spreading diameter is determined as a function of spreading time.
The final contact angle lies between the receding and the advancing contact angle and is a decreasing function of the initial kinetic energy of the droplet. The liquid zinc drop remains pinned in a metastable position, due to the contact angle hysteresis.
During the first ms, the spreading diameter increases up to its maximal value Dmax. In good agreement with previous studies in the field of wetting at low temperatures, the maximal spreading diameter scales as D0 We1/4, We being the Weber number which compares inertial and capillary forces.
The kinetic energy of the liquid metal droplet needed to reach the minimum receding contact angle was predicted from the model based on the Weber number to describe Dmax. This kinetic energy is in good agreement with the experimental results.
As a final conclusion, an increase in the initial kinetic energy of the droplet leads to a decrease in the final contact angle. It is therefore expected that forced wetting could improve the galvanizability of steels by liquid Zn–Al alloys.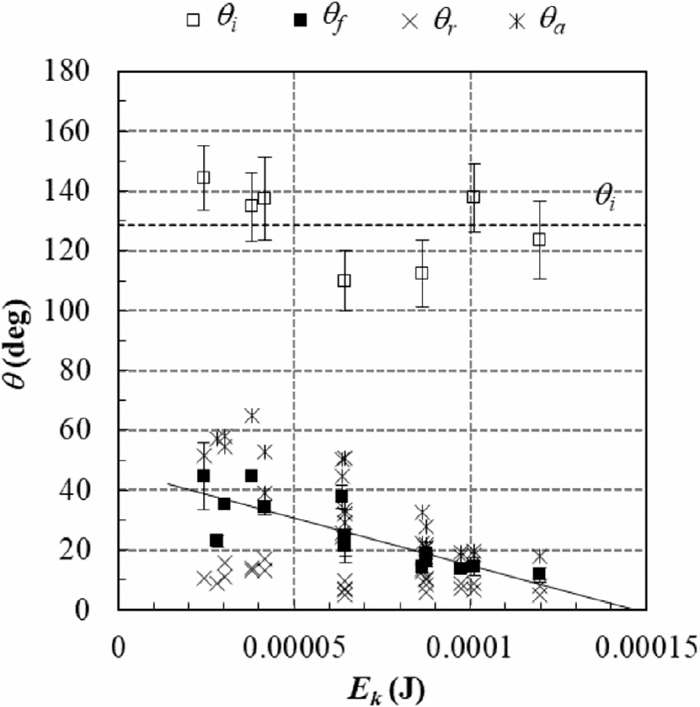 Influence of the initial kinetic energy of a Zn-Al droplet dispensed on a steel substrate on the initial
θi
, final
θf
, receding
θr
and advancing
θa
contact angles
Fullsize Image