Abstract
Objectives: Left colic artery preserving lymph node dissection around the inferior mesenteric artery (IMA) is a standard procedure for rectal cancer surgery. Although the IMA sheath is a well-known structure, to our knowledge, there are no reports describing its microanatomy from an oncological point of view; therefore, there is no consensus on how to handle the sheath for accurate lymph node dissection around IMA. We aimed to investigate the components of the IMA sheath pathologically, focusing particularly on the presence of lymph nodes (LNs) and lymphatic ducts (LDs). Methods: We evaluated rectal and sigmoid cancer specimens resected with high-tie technique in our institute in April 2017-April 2018. The specimens were collected consecutively, without any selection. In the resected specimens, the entire anatomical structure of IMA was investigated. We defined the IMA sheath as the tissues located between the surface of the IMA adventitia and collagenous layers connecting the outermost nerve fibers. The microanatomy around the IMA was examined using H&E staining, and LDs were identified using D2-40 immunohistochemistry. Results: Twenty patients were enrolled. No LNs were observed within the sheath in any of the cases. However, there were a significant number of LDs (11.08 ± 3.35) within the sheath. Conclusions: Our anatomical definition of IMA sheath was feasible and objectively possible. These microanatomical results partially support the surgical concept of left colic artery preserving lymph node dissection around the IMA. It may be difficult to remove all lymphatic ducts without removing the IMA itself.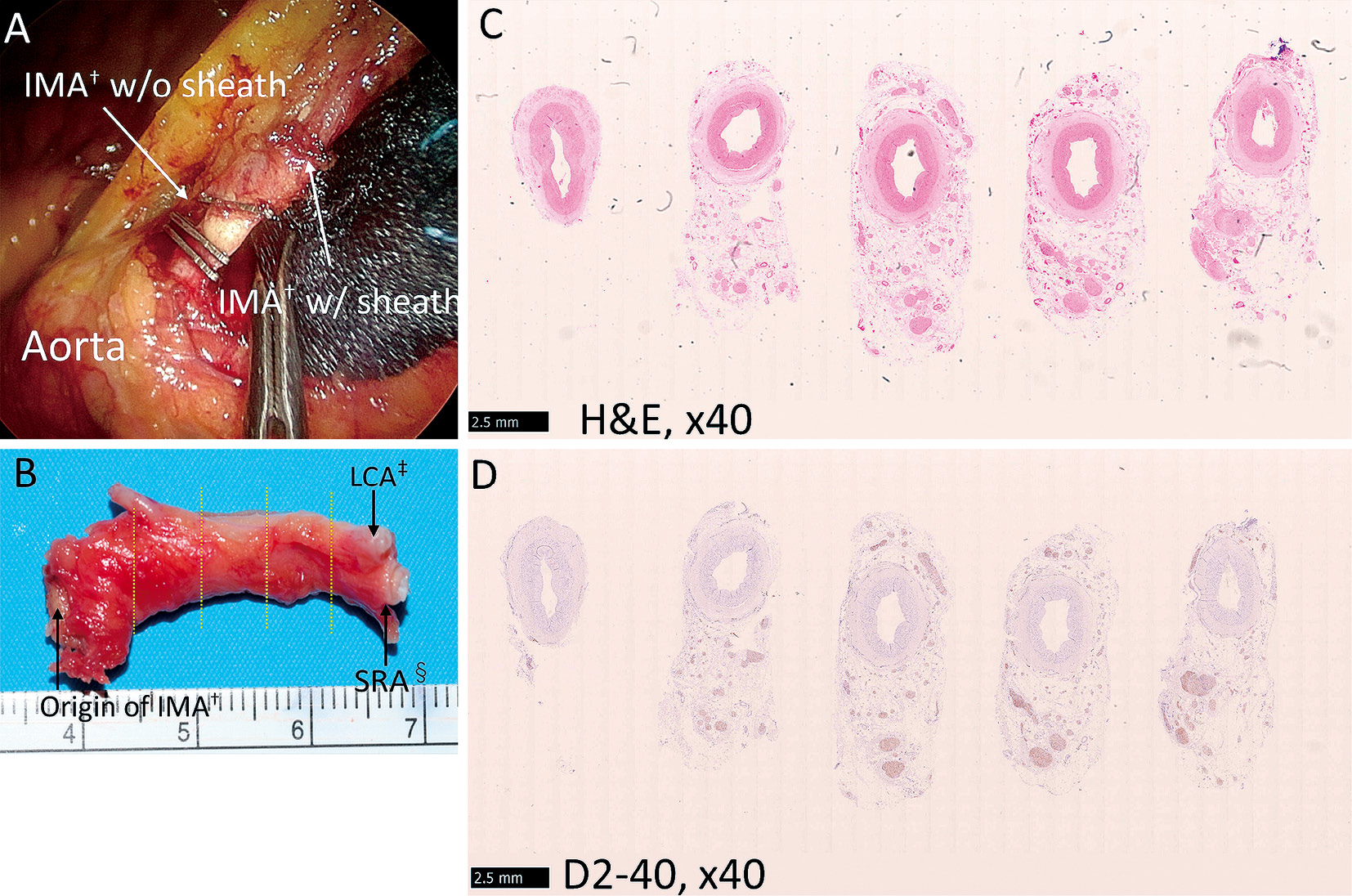 © 2019 The Japan Society of Coloproctology

JARC is an Open Access journal distributed under the Creative Commons Attribution-NonCommercial-NoDerivatives 4.0 International License. Anyone may download, reuse, copy, reprint, or distribute articles published in the Journal for non-profit purposes if they cite the original authors and source properly. If anyone remixes, transforms, or builds upon the material, you may not distribute the modified material.
https://creativecommons.org/licenses/by-nc-nd/4.0/