Abstract
Ecdysteroids are a class of steroid hormones in arthropods that control molting and metamorphosis through interaction with intracellular nuclear receptors. In contrast to the extensive literature describing their biosynthetic pathways and signaling components, little has been known about how these hormones are traveling into and out of the cells through lipid bilayers of the cell membranes. Recently, a series of studies conducted in the fruit fly Drosophila melanogaster revealed that membrane transporters have critical functions in trafficking ecdysteroids across cell membranes, challenging the classical simple diffusion model of steroid hormone transport. Here we summarize recent advances in our understanding of membrane transporters involved in ecdysteroid signaling in Drosophila, with particular focus on Ecdysone Importer (EcI) that is involved in ecdysteroid uptake in peripheral tissues. We then discuss the potential advantage of EcI blockers as a novel pest management tool as compared to classical insect growth regulators.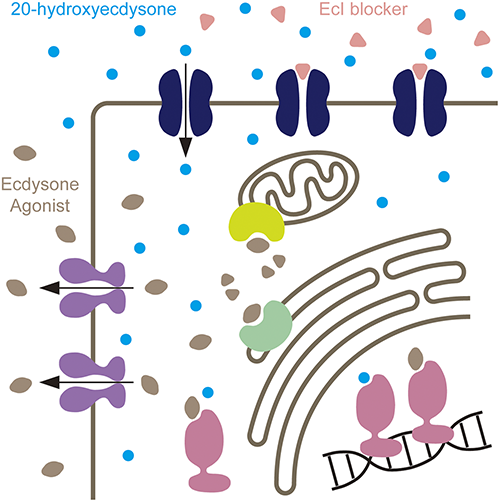 © Pesticide Science Society of Japan 2021. This is an open access article distributed under the Creative Commons Attribution-NonCommercial-NoDerivatives 4.0 International (CC BY-NC-ND 4.0) License (https://creativecommons.org/licenses/by-nc-nd/4.0/)

This article is licensed under a Creative Commons [Attribution-NonCommercial-NoDerivatives 4.0 International] license.
https://creativecommons.org/licenses/by-nc-nd/4.0/