Abstract
A series of slow strain rate tests (SSRTs) were carried out on a Ti-6Al-4V alloy in hydrogen gas at high temperatures (up to 300℃) and high pressures (up to 75 MPa). In order to evaluate the degree of embrittlement of the titanium alloy in a hydrogen gas environment, measurements of tensile strength, elongation and reduction of area were normalized using results obtained in air of atmospheric pressure and in the same temperature range. Results show that Ti-6Al-4V alloy does not exhibit any decrease in tensile strength, elongation or reduction of area in a high pressure hydrogen gas environment.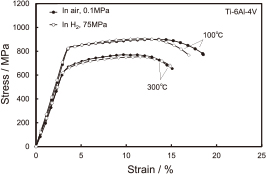 Fig. 4 Stress-strain curves of Ti-6Al-4V specimens. The SSRTs were carried out in air under the atmospheric pressure and H
2
gas with 75 MPa, at 100℃ and 300℃ respectively.
Fullsize Image