Abstract
Introduction: Conus medullaris syndrome (CMS) is a rare pathology. The conus medullaris is located at the end of the spinal cord and continues to the cauda equina. Conus medullaris lesions can cause variable symptoms and neurological deficits, usually involving the lower extremities; CMS that does not affect the lower limbs is extremely rare. No reports have described isolated CMS caused by intradural disc herniation (IDH). This report describes a case of CMS without lower extremity involvement associated with IDH at L1/2.
Case Report: A 52-year-old man with a 10-year history of lower back pain complained of dysuria and lumbago with no leg symptoms at his first visit to the urology department. Neurological examination revealed mild perineal hypoalgesia; however, motor function and lower extremity sensation were normal with except for left ankle dorsiflexion weakness (manual muscle test, 4/5). Magnetic resonance imaging revealed conus medullaris compression by a mass, continuous with the L1/2 disc, and severe spinal canal stenosis at vertebral levels L3/4 and L4/5. Postmyelographic computed tomography indicated direct conus medullaris compression by an intradural and extramedullary mass continuous with the L1/2 disc. Without recovery of his dysuria, the patient underwent surgery, including partial laminectomy of the L1/2, incision of the dura mater, and removal of the herniated disc. Immediately after surgery, his dysuria completely resolved. More than one year postoperatively, the patient remained active with no change in his neurological condition.
Conclusions: Although CMS without lower limb symptoms is extremely rare, we experienced an isolated case of CMS associated with IDH causing direct conus medullaris compression. Without lower extremity involvement, the CMS diagnosis was relatively easy. Surgical treatment for CMS without lower extremity involvement caused by IDH was effective.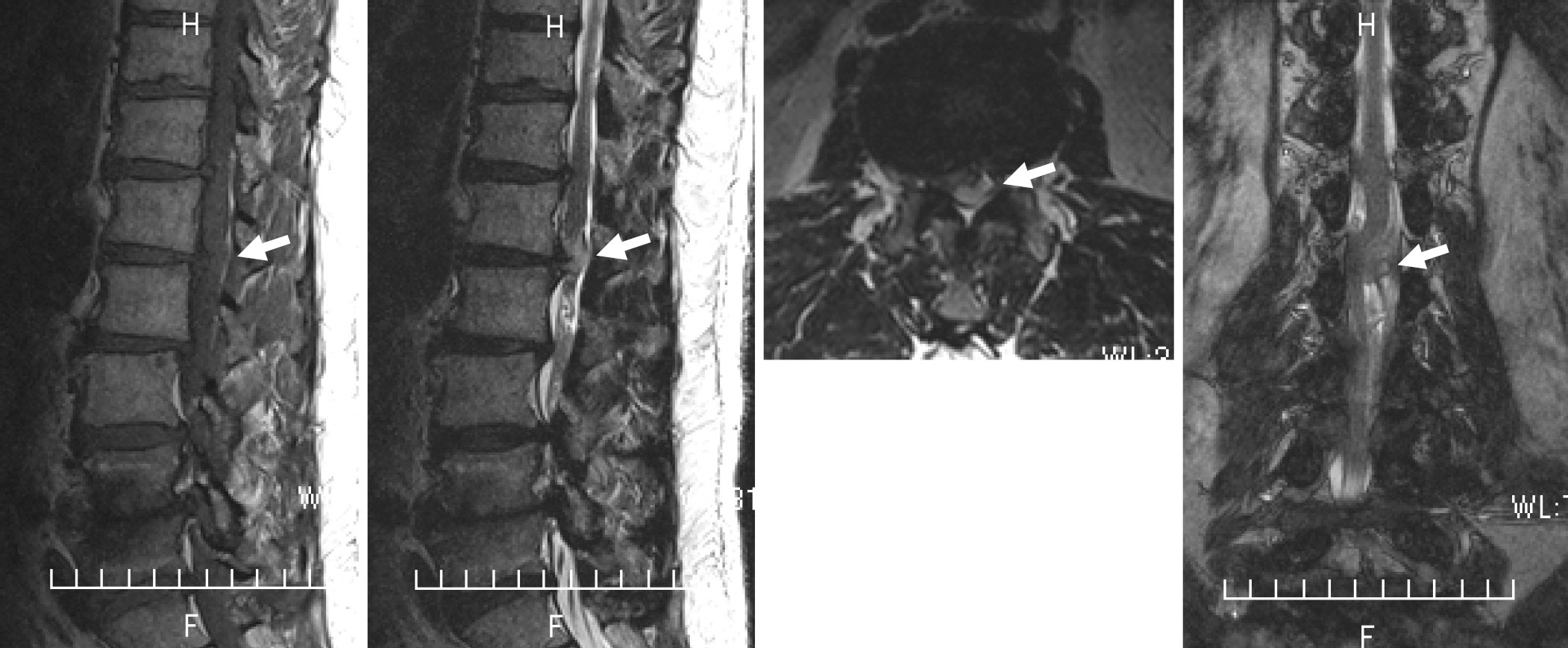 © 2019 The Japanese Society for Spine Surgery and Related Research.

SSRR is an Open Access journal distributed under the Creative Commons Attribution-NonCommercial-NoDerivatives 4.0 International License. Anyone may download, reuse, copy, reprint, or distribute articles published in the journal for not-for-profit purposes if they cite the original authors and source properly. If you remix, transform, or build upon the material, you may not distribute the modified material.
https://creativecommons.org/licenses/by-nc-nd/4.0/