Abstract
Introduction: Chronic low back pain (CLBP), defined as low back pain persisting for at least 3 months, leads to limitations in the activities of daily living and decreased quality of life. Individualized self-exercise education could be a preferable treatment option, especially in community-dwelling people with CLBP. Previous studies, however, did not directly compare the effects of therapist-led self-exercise education and material-only education, and there are only a few studies investigating the effects of low-dose (comprising a few sessions) self-exercise education on CLBP. We present a protocol of community-based, randomized study to evaluate the effects of low-dose (comprising a few sessions), therapist-led self-exercise education on CLBP.
Methods: Forty-eight participants with CLBP (men and women, aged 40-74 years) will be allocated to therapeutic self-exercise education programs, either a therapist-led group (2-week therapist's consultation and material use) or material-only group (material use only), in a randomized controlled trial. Pain intensity (NRS, numeric rating scale), pain disability (RDQ, Roland-Morris disability questionnaire), pain self-efficacy (PSEQ, pain self-efficacy questionnaire), and quality of life score (EQ-5D, European quality of life-5 dimensions) will be measured at baseline and at 4, 12, and 24 weeks. We will apply a repeated-measures design with mixed-effect models to estimate group differences from the baseline.
Ethics/Trial registration number: The protocol was approved by the Ethics Committees of the Osaka Center for Cancer and Cardiovascular Disease Prevention and Osaka University. The trial registration number is registered on the University Hospital Medical Information Network (UMIN000024537).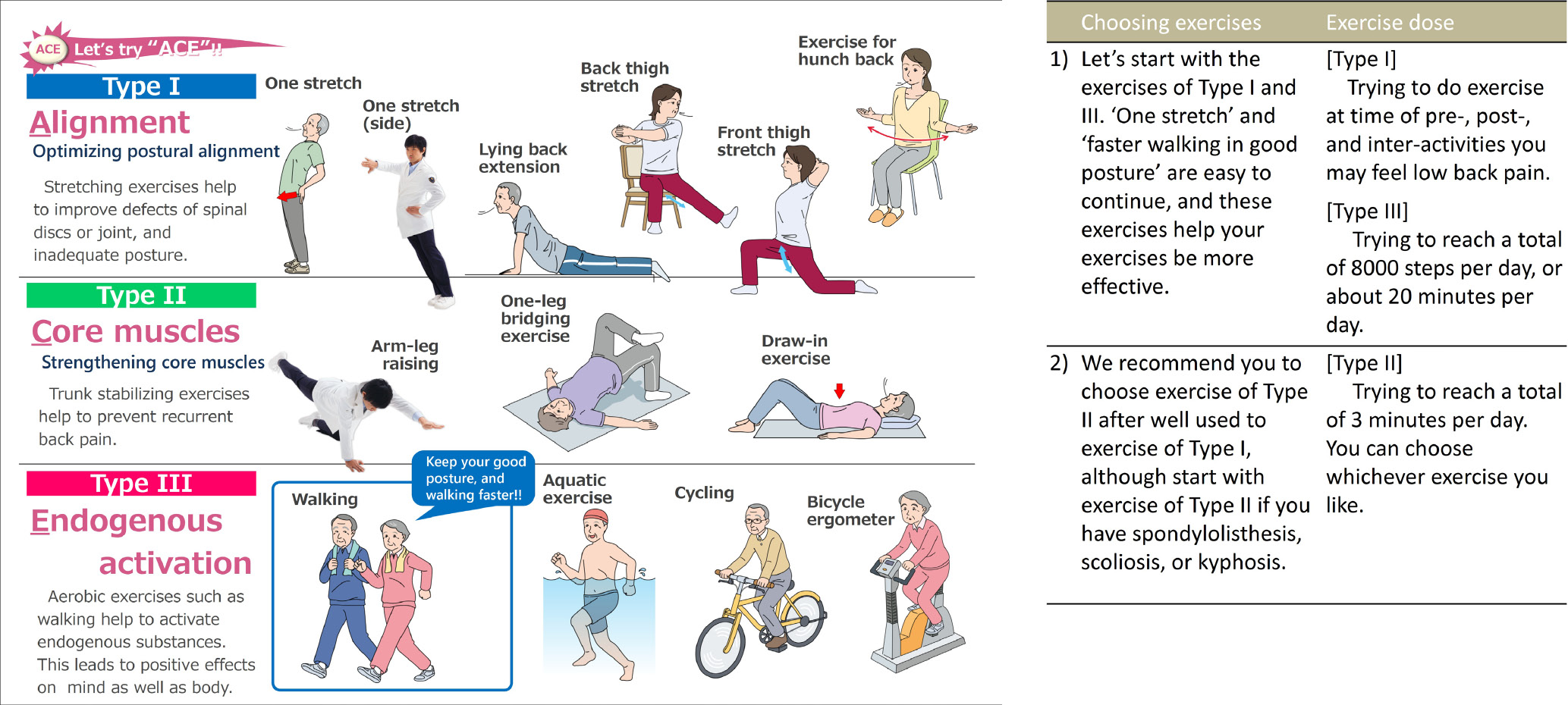 © 2019 The Japanese Society for Spine Surgery and Related Research.

SSRR is an Open Access journal distributed under the Creative Commons Attribution-NonCommercial-NoDerivatives 4.0 International License. Anyone may download, reuse, copy, reprint, or distribute articles published in the journal for not-for-profit purposes if they cite the original authors and source properly. If you remix, transform, or build upon the material, you may not distribute the modified material.
https://creativecommons.org/licenses/by-nc-nd/4.0/