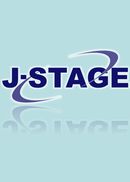 Latest Volume/Issue
Advance Publications
Contents of Volume 5, 2006
Special Issue "Thousand Words"
Contents of Volume 5, 2006
Announcement From Publisher
June 04, 2015

CODATA/Data Science journal is to be published from the Ubiquity Press from 2015. For more information, please visit http://datascience.codata.org/.
System Maintenance
J-STAGE will undergo scheduled maintenance as follows.
Year 2016
Sep 24(Sat) 10:00 - 15:00(JST)
(Sep 24(Sat) 01:00 - 06:00(UTC))
Announcement From J-STAGE
August 25, 2016
Due to the system maintainance' some linking services on J-STAGE will be unavailable on August 27 from 10:00 to 21:00 (JST)(August 27' from 1:00 to 12:00(UTC)). We apologize for any inconvenience and appreciate your understanding.
※Please be noted the maintainance might not end on time.
August 05, 2016
Due to the maintenance of online payment system' article purchase with credit card will be unavailable as following schedule. If you may encounter the maintenance difficulties' please try again after the maintenance is completed. Thanks for your kind cooperation. Details
May 01, 2015
Please note the "spoofing mail" that pretends to be J-STAGE.
Journal Tools
---

Download Meta of All Articles
[ Help ]