Abstract
Blast furnace has been regarded as a highly optimized process as a result of various technological improvements over its long history. However, from the viewpoints of resources, energy and global warming, continuing evolution toward reductant flexibility and CO2 mitigation is desired. This review focuses on the progressive design of an ambitious blast furnace for the future.
First, the history of techniques for reducing coke rate and reducing agent in the blast furnace are reviewed. Pulverized coal injection is currently common; however a more innovative process is desired in order to address the global warming issue. The low temperature blast furnace based on charging of high reactivity coke is a realistic process. The combination of the oxygen blast furnace with top gas recycling is also attractive. Although the top gas recycling process based on the oxygen blast furnace is very effective for reducing CO2 emissions, a total evaluation considering the role of the blast furnace to keep the energy self-sufficiency in the integrated steel works is necessary. The oxygen blast furnace enables injection of a large amount of natural gas, and optimized injection of natural gas and pulverized coal makes it possible to mitigate CO2 emissions while maintaining the energy supply to downstream processes. Moreover, owing to the high productivity of the oxygen blast furnace, the blast furnace profile can be downsized. The characteristics of several processes are quantitatively examined, and the concept of the advanced oxygen blast furnace as a next-generation process toward carbon dioxide mitigation is discussed.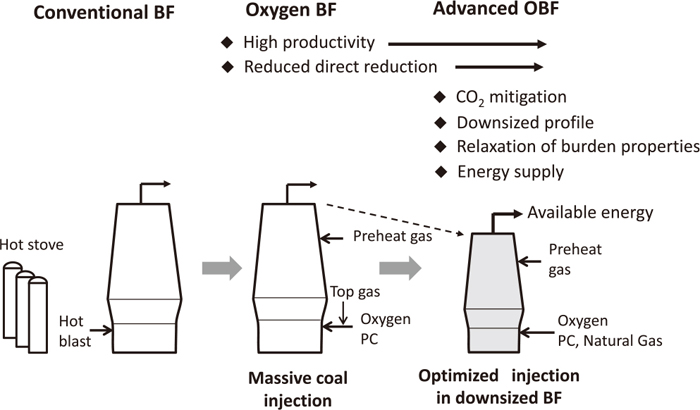 Progressive development to next-generation blast furnace.
Fullsize Image