Abstract
Objectives: Pelvic organ prolapse (POP) POP is defined as the protrusion of pelvic organs from the vaginal canal. POP often coexists with internal rectal prolapse or external rectal prolapse (ERP). A series of patients with coexisting POP and ERP who underwent laparoscopic ventral rectopexy (LVR) combined with laparoscopic sacrocolpopexy (LSC) are reported here. Methods: Seven patients underwent LVR and LSC together. Fecal incontinence was assessed by the Fecal Incontinence Severity Index (FISI), constipation was assessed by the Constipation Scoring System (CSS), and urinary incontinence was assessed by the International Consultation on Incontinence Questionnaire-Short Form (ICIQ-SF). Anatomical disorders were assessed by Pelvic Organ Prolapse Quantification (POP-Q) and defecography. Results: The patients' median age was 81 (60-88) years. The median operative time was 380 (282-430) minutes. The median postoperative hospital stay was 3 (1-5) days. There were no postoperative complications. The FISI, CSS, POP-Q, and defecography findings improved postoperatively; however, the ICIQ-SF deteriorated in 2 of 5 patients. Conclusions: LVR combined with LSC for coexisting POP and ERP is feasible.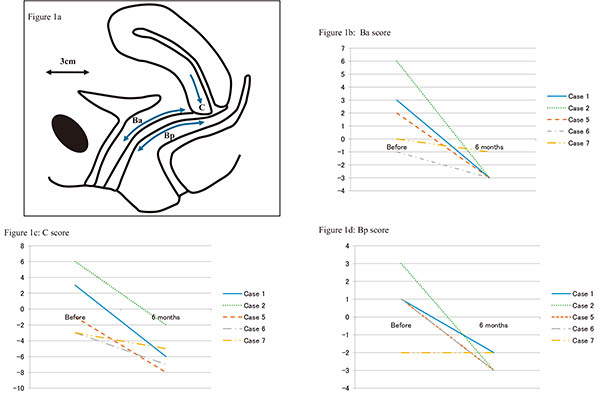 © 2017 The Japan Society of Coloproctology

JARC is an Open Access journal distributed under the Creative Commons Attribution-NonCommercial-NoDerivatives 4.0 International License. Anyone may download, reuse, copy, reprint, or distribute articles published in the Journal for non-profit purposes if they cite the original authors and source properly. If anyone remixes, transforms, or builds upon the material, you may not distribute the modified material.
https://creativecommons.org/licenses/by-nc-nd/4.0/