Abstract
Objectives: To determine whether primary tumor location is an independent prognostic factor in stage IV colon cancer, focusing on its relationship with chemotherapy and/or sex. Methods: We retrospectively analyzed clinicopathological data from 255 patients with stage IV colon cancer from two treatment eras according to the year of starting multidrug combination chemotherapy: period A was from 1985 to 2005 and period B from 2006 to 2013. Propensity score matching (1:1) was performed to assess overall survival (OS). Results: Right-sided colon cancer tended to be more common in elderly females with large-sized tumors, exhibiting mucinous histology or peritoneal dissemination. After propensity score matching, 130 patients were identified. There was no difference in OS between left-sided and right-sided tumors in either period A or B. The prognosis of patients receiving chemotherapy in either period was superior to that of those without chemotherapy. Better outcome of chemotherapy was seen only in female left-sided patients from both periods (p < 0.05). By multivariate analysis, liver metastasis, peritoneal dissemination, and chemotherapy were found to be independent risk factors in period A, whereas only liver metastasis and chemotherapy were the independent factors in period B. Conclusions: Primary tumor location is not an independent prognostic factor, but seems to be a chemotherapy effect modifier.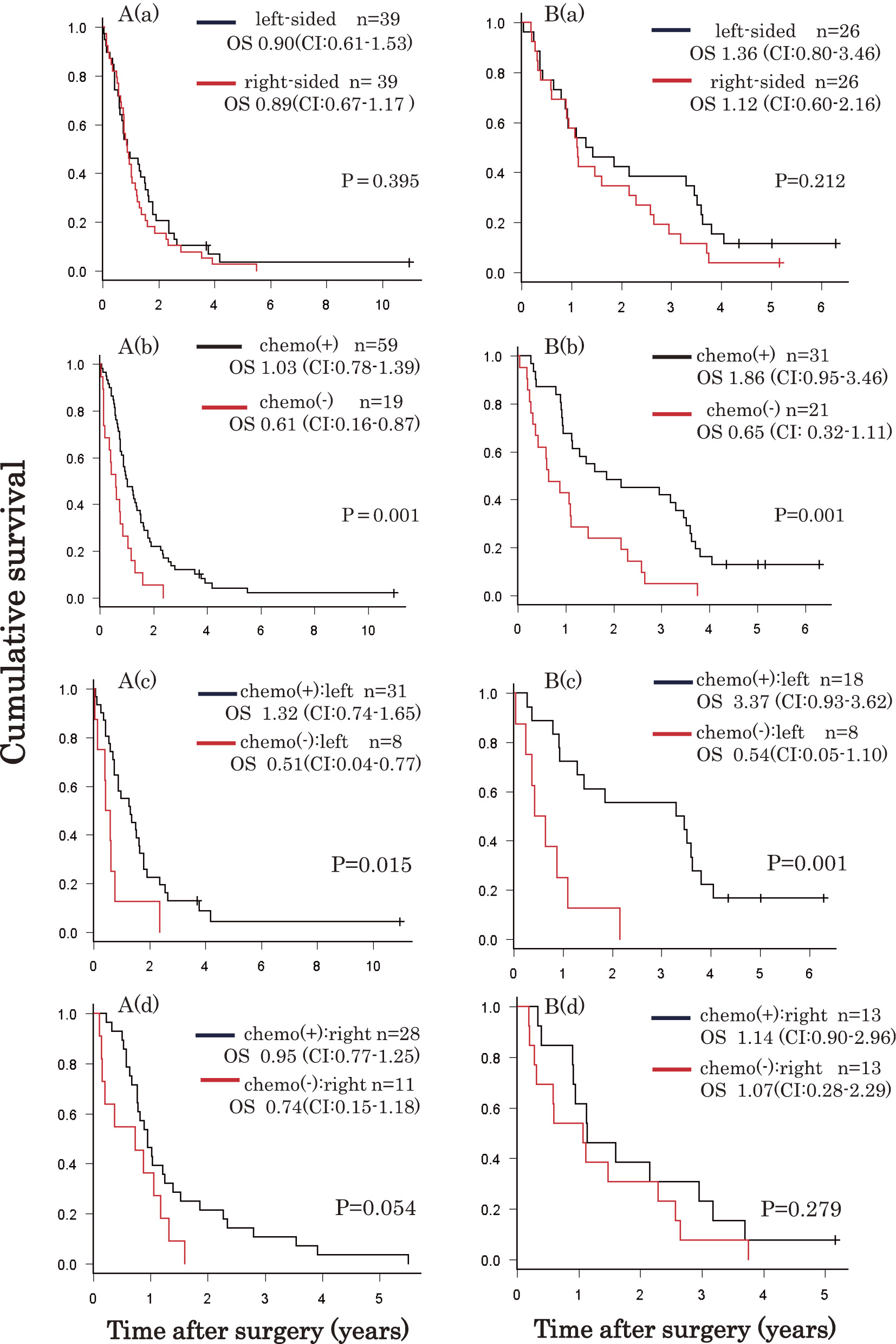 © 2019 The Japan Society of Coloproctology

JARC is an Open Access journal distributed under the Creative Commons Attribution-NonCommercial-NoDerivatives 4.0 International License. Anyone may download, reuse, copy, reprint, or distribute articles published in the Journal for non-profit purposes if they cite the original authors and source properly. If anyone remixes, transforms, or builds upon the material, you may not distribute the modified material.
https://creativecommons.org/licenses/by-nc-nd/4.0/