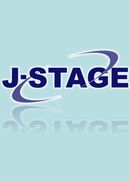 Latest Volume/Issue
Advance Publications
Contents of Volume 8, 2009
Papers
"Proceedings of the International Symposium: Fifty Years after IGY - Modern Information Technologies and Earth and Solar Sciences -" (Eds. Iyemori, T. et al.)
Preface
Papers
Errata
Announcement From Publisher
June 04, 2015

CODATA/Data Science journal is to be published from the Ubiquity Press from 2015. For more information, please visit http://datascience.codata.org/.
System Maintenance
J-STAGE will undergo scheduled maintenance as follows.
Year 2017
Mar 25(Sat) 10:00 - 15:00(JST) (Mar 25(Sat) 01:00 - 06:00(UTC))
Announcement From J-STAGE
May 01, 2015
Please note the "spoofing mail" that pretends to be J-STAGE.
Journal Tools
---

Download Meta of All Articles
[ Help ]