Abstract
Benzofuro[2,3-c]carbazoloquinol derivatives, a new type of fluorescent dyes, were derived from the corresponding quinone, and their optical and electrochemical properties were investigated by photoabsorption and fluorescence spectroscopy, cyclic voltammetry (CV) and density functional theory (DFT) calculation. The quinol derivatives in 1,4-dioxane showed the photoabsorption band at around 435 nm (molar extinction coefficient (εmax) = ca. 6000–8000 M−1 cm−1) and the fluorescence band at around 520 nm (fluorescence quantum yield (Φfl) = 0.24–0.28). The CV demonstrated that the quinol derivatives exhibit an irreversible oxidation wave at around −0.28 V versus Fc/Fc+. The highest occupied molecular orbital (HOMO) and the lowest unoccupied molecular orbital (LUMO) energy levels of the quinol derivatives which were calculated using DFT at the B3LYP/6-31G(d,p) level are in good agreement with the experimental results.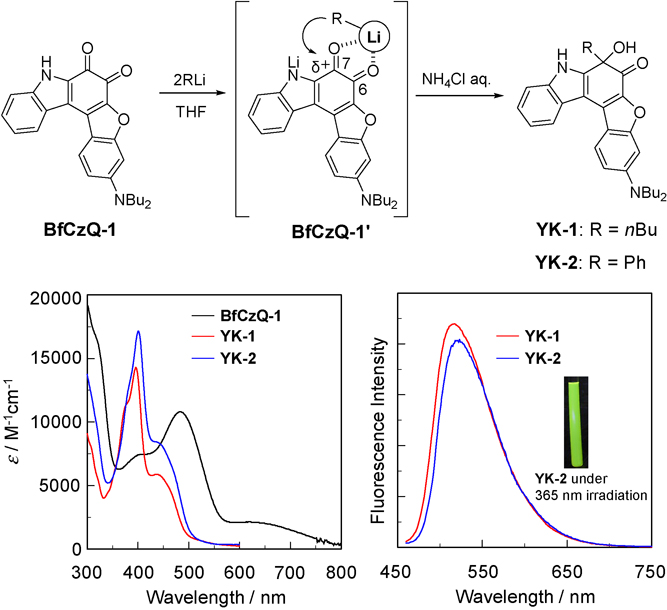 © The Author(s) 2021. Published by ECSJ.

This is an open access article distributed under the terms of the Creative Commons Attribution 4.0 License (CC BY, http://creativecommons.org/licenses/by/4.0/), which permits unrestricted reuse of the work in any medium provided the original work is properly cited. [DOI: 10.5796/electrochemistry.21-00082].
http://creativecommons.org/licenses/by/4.0/