Abstract
Objectives: The necessary and sufficient length of the distal resection margin (l-DRM) for rectosigmoid cancer remains controversial. This study evaluated the validity of the 3-cm l-DRM rule for rectosigmoid cancer in the Japanese classification of colorectal cancer.
Methods: We retrospectively reviewed 1,443 patients with cT3 and cT4 rectosigmoid cancer who underwent R0 resection in Japanese institutions between 1995 and 2004. We identified the optimal cutoff point of the l-DRM affecting overall survival (OS) rate using a multivariate Cox regression analysis model. Using this cutoff point, the patients were divided into two groups after balancing the potential confounding factors of the l-DRM using propensity score matching, and the OS rates of the two groups were compared.
Results: A multivariate Cox regression analysis model revealed that the l-DRM of 4 cm was the best cutoff point with the greatest impact on OS rate (hazard ratio [HR], 1.37; 95% confidence interval [CI], 1.00-1.84; P = 0.0452) and with the lowest Akaike information criterion value. In the matched cohort study, the OS rate of patients who had l-DRM of 4 cm or more was significantly higher than that of patients who had l-DRM < 4 cm (n = 402; 5-year OS rates, 87.6% vs. 80.3%, respectively; HR, 1.60; 95% CI, 1.09-2.31; P = 0.0136).
Conclusions: For cT3 and cT4 rectosigmoid cancer, l-DRM of 4 cm may be an appropriate landmark for a curative intent surgery, and we were unable to definitively confirm the validity of the Japanese 3-cm l-DRM rule.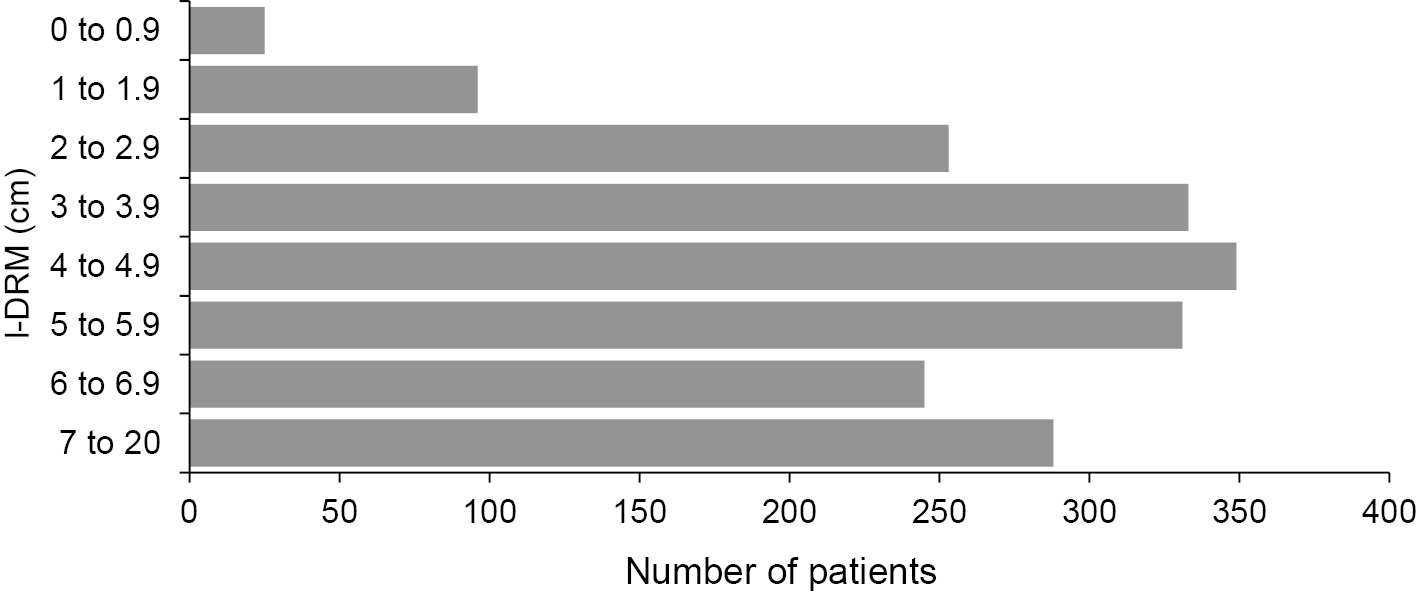 © 2020 The Japan Society of Coloproctology

JARC is an Open Access journal distributed under the Creative Commons Attribution-NonCommercial-NoDerivatives 4.0 International License. Anyone may download, reuse, copy, reprint, or distribute articles published in the Journal for non-profit purposes if they cite the original authors and source properly. If anyone remixes, transforms, or builds upon the material, you may not distribute the modified material.
https://creativecommons.org/licenses/by-nc-nd/4.0/