Abstract
Insect growth regulators (IGRs) can be developed by elucidating the molecular mechanisms of insect-specific biological events. Because insect molting, and metamorphosis are controlled by ecdysteroids, their biosynthetic pathways can serve as targets for IGR development. The glutathione S-transferase Noppera-bo (Nobo), which is conserved in dipteran and lepidopteran species, plays an essential role in ecdysteroid biosynthesis. Our previous study using 17β-estradiol as a molecular probe revealed that Asp113 of Drosophila melanogaster Nobo (DmNobo) is essential for its biological function. However, to develop IGRs with a greater Nobo inhibitory activity than 17β-estradiol, further structural information is warranted. Here, we report five novel non-steroidal DmNobo inhibitors. Analysis of crystal structures of complexes revealed that DmNobo binds these inhibitors in an Asp113-independent manner. Among amino acid residues at the substrate-recognition site, conformation of conserved Phe39 was dynamically altered upon inhibitor binding. Therefore, these inhibitors can serve as seed compounds for IGR development.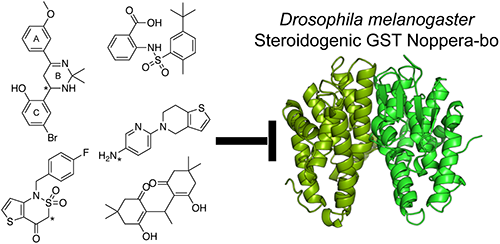 © Pesticide Science Society of Japan 2021. This is an open access article distributed under the Creative Commons Attribution-NonCommercial-NoDerivatives 4.0 International (CC BY-NC-ND 4.0) License (https://creativecommons.org/licenses/by-nc-nd/4.0/)

This article is licensed under a Creative Commons [Attribution-NonCommercial-NoDerivatives 4.0 International] license.
https://creativecommons.org/licenses/by-nc-nd/4.0/