Abstract
Introduction: The lateral lumbar interbody fusion (LLIF) surgical approach is minimally invasive and safely accesses the target region. Therefore, it is widely used in cases of lumbar spinal stenosis and spinal deformity. Intraoperative neuromonitoring is necessary to avoid nerve injury, whereas postoperative anterior thigh symptoms are not necessarily prevented.
Technical Note: In our institute, 85 LLIF operations have been performed. The first 30 cases were excluded from the present study to avoid surgical learning curve effects; conventional monitoring was used in 30 cases, whereas a new method with a probe to monitor intramuscular potential was used in 25 other cases. Anterior thigh symptoms and motor deficits were assessed postoperatively. The location of the electromyographic threshold decrease was at the posterior part of the disc at L2-3, but at the anterior part at L4-5. Compared with conventional monitoring, the new intramuscular monitoring significantly decreased the prevalence of motor deficits of the iliopsoas at 1 day and 30 days; anterior thigh pain at 1 day, 30, and 90 days; and anterior thigh numbness at 30 and 90 days postoperatively.
Conclusions: Compared with conventional monitoring, the new intramuscular monitoring with a less invasive probe may reduce anterior thigh symptoms.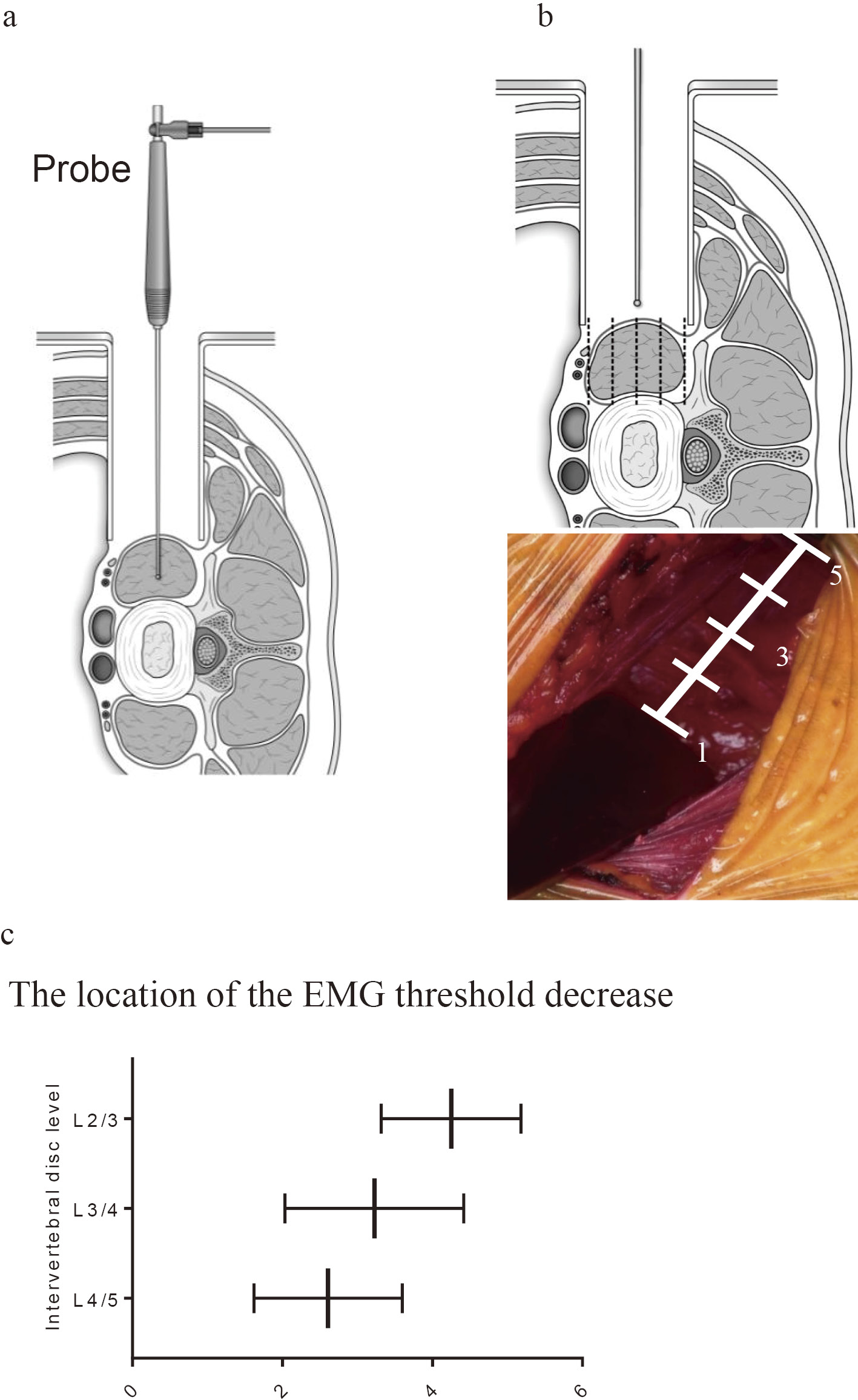 © 2019 The Japanese Society for Spine Surgery and Related Research.

SSRR is an Open Access journal distributed under the Creative Commons Attribution-NonCommercial-NoDerivatives 4.0 International License. Anyone may download, reuse, copy, reprint, or distribute articles published in the journal for not-for-profit purposes if they cite the original authors and source properly. If you remix, transform, or build upon the material, you may not distribute the modified material.
https://creativecommons.org/licenses/by-nc-nd/4.0/