Abstract
The ossification of the spinal ligaments (OSL) is characterized by ectopic new bone formation in the spinal ligament. However, the etiology of OSL has not yet been fully elucidated. This review paper summarizes the contents of previous reviews, introduces recent advances in the study of OSL and discusses future perspectives. A review of the literature that investigated the biomarkers involved in OPLL was published in 2019. The review cited 11 reports in which a calcium phosphate metabolism marker, bone turnover markers, sclerostin, dickkopf-1, secreted frizzled-related protein-1, fibroblast growth factor-23, fibronectin, menatetrenone, leptin, pentosidine, and hypersensitive C-reactive protein were examined as markers. Data published in 2021 noted that non-coding RNAs might be useful biomarkers for OSL. In addition, triglycerides, uric acid, gene expression levels of interleukin-17 receptor C, chemokine (C-X-C motif) ligand 7 (CXCL7) in the serum reportedly are biomarkers of OSL. However, several issues have been raised in previous studies. Therefore, biomarkers have yet to be conclusively investigated. Research using biomarkers is very important in clarifying pathomechanisms. Results for studies using biomarkers might also be useful for the treatment of patients with OSL in the near future.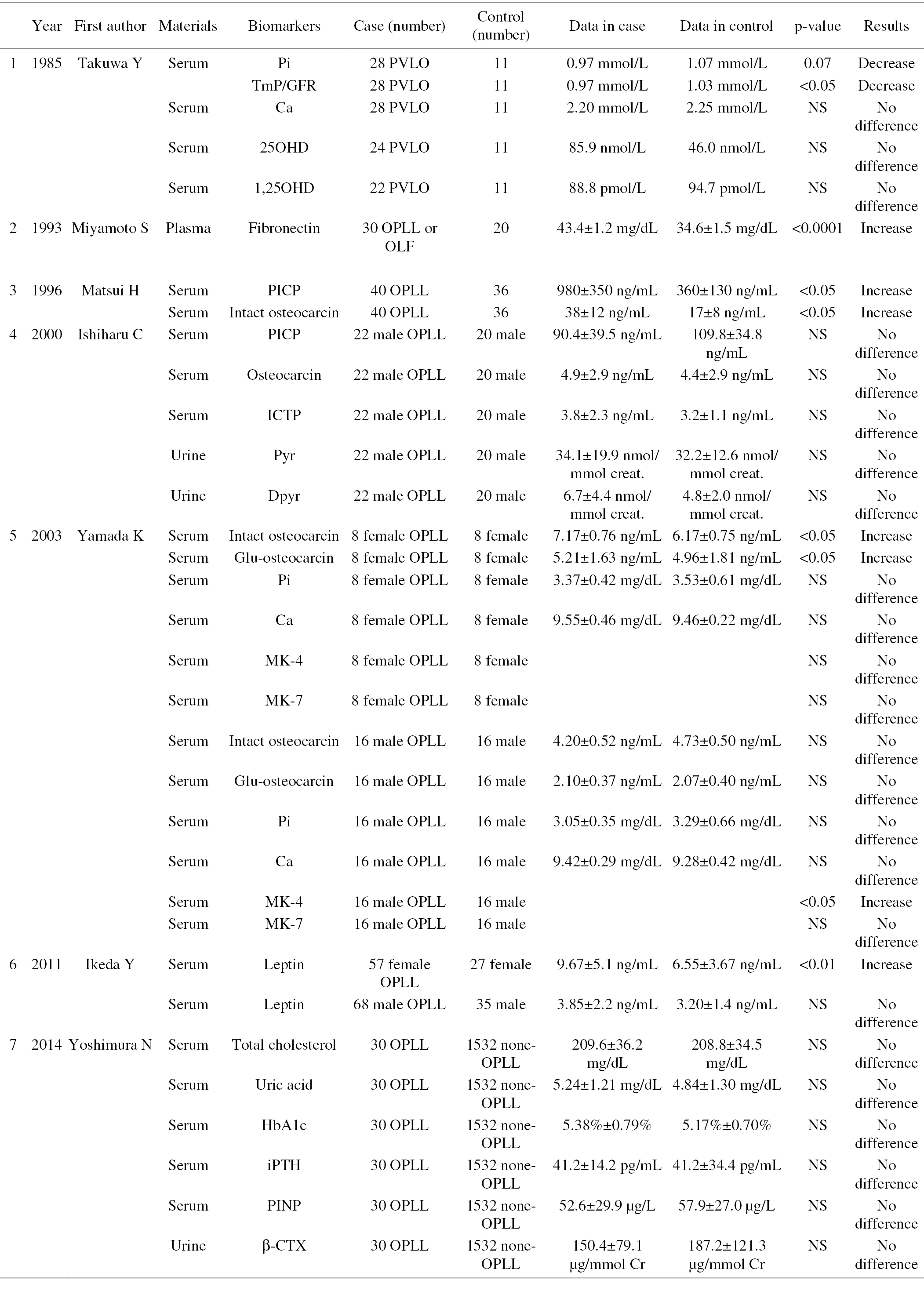 © 2022 The Japanese Society for Spine Surgery and Related Research.

SSRR is an Open Access journal distributed under the Creative Commons Attribution-NonCommercial-NoDerivatives 4.0 International License. Anyone may download, reuse, copy, reprint, or distribute articles published in the journal for not-for-profit purposes if they cite the original authors and source properly. If you remix, transform, or build upon the material, you may not distribute the modified material.
https://creativecommons.org/licenses/by-nc-nd/4.0/