Low-density lipoprotein cholesterol (LDL-C) is a well-established causative risk factor for coronary artery disease (CAD), and intensive LDL-lowering treatment with statins has efficiently reduced coronary events and deaths.1 Nevertheless, many patients in Japan with high coronary risk have not achieved LDL-C target goals.2 Furthermore, clinical trials suggest that residual risks remain for CAD even with maximal potency statins.3 Additional reduction in LDL-C, to <60 mg/dl, using the non-statin drug, ezetimibe, has been shown in recent years to result in a further reduction of cardiovascular events.4 However, as it has already been 30 years after the introduction of statins and 10 years after ezetimibe came onto the market, it is time for the next breakthrough.
Article p 1980
The proprotein convertase subtilisin/kexin type 9 (PCSK9) is known to increase LDL-C levels through interference with normal physiological recycling of hepatic LDL receptors (Figure); it binds to the cell surface LDL receptor, and is taken up together into the cytoplasm, and thereby promotes the degradation of the LDL receptor in the lysosome. Statins reduce plasma LDL-C levels through inhibition of cholesterol biosynthesis and by upregulation of LDL receptors. In addition, statins increase the expression of PCSK9, which results in attenuation of the LDL-lowering effect. Monoclonal antibodies against PCSK9 have been developed and shown to significantly reduce LDL-C levels in a large number of phase 2 and 3 studies mainly performed in Western countries.5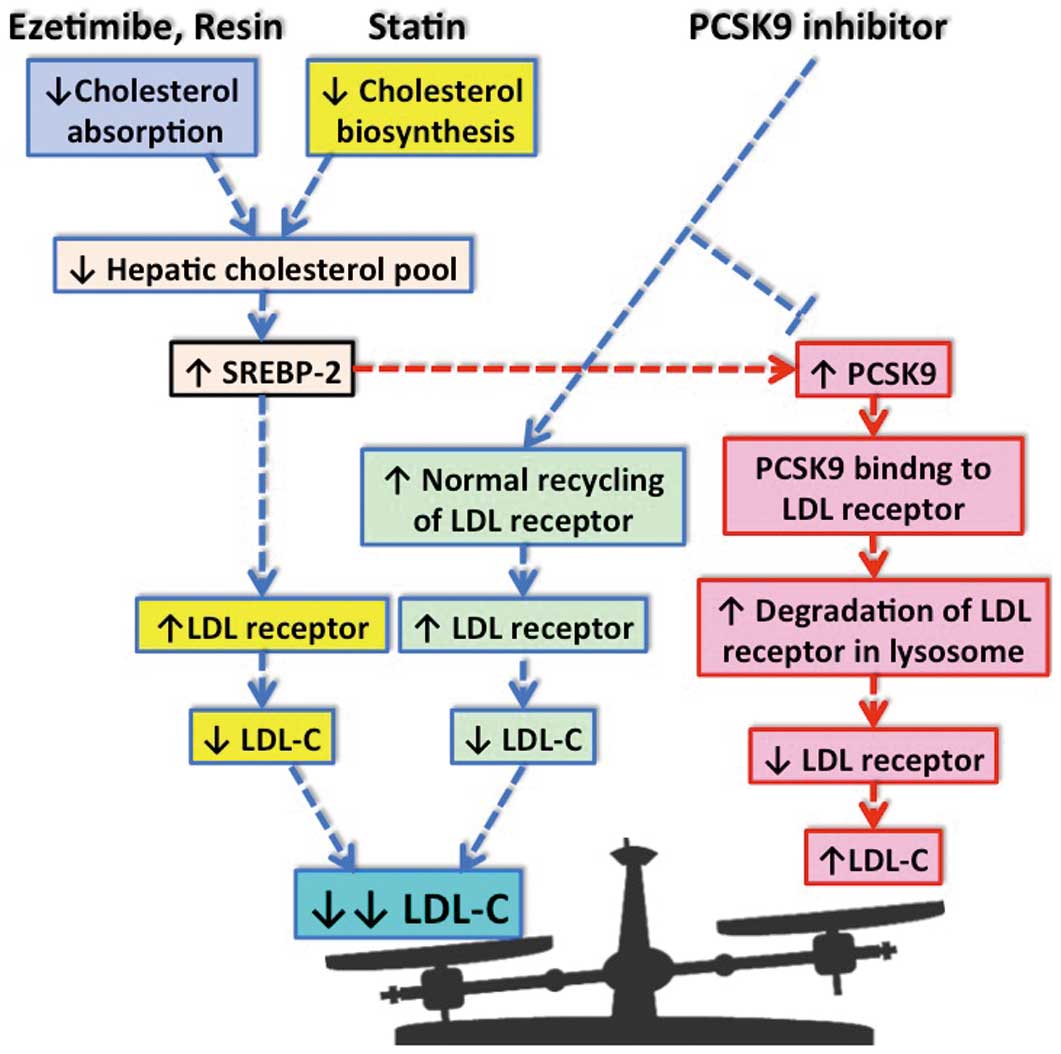 Figure.
Schematic showing the action of PCSK9 and cholesterol-lowering drugs. PCSK9 is produced and secreted by the liver, and binds to the low-density lipoprotein (LDL) receptor on the hepatic cell surface. The LDL receptor/PCSK9 complex is taken up by the endosome and then undergoes degradation in the lysosome. Cholesterol-lowering drugs, such as statins, increase PCSK9 expression, which attenuates the LDL-lowering effects. The PCSK9 inhibitors, alone or in combination with statins or ezetimibe, facilitate large reductions in LDL-C. LDL-C, low-density lipoprotein cholesterol; PCSK9, proprotein convertase subtilisin/kexin type 9; SREBP-2, sterol regulatory element-binding protein-2.
The prevalence of CAD in Japan is known to be significantly lower than in Western countries, despite decades of westernized lifestyle and comparable plasma LDL-C levels. Moreover, in Japan where statins are usually used at half to one-quarter of the doses used in Western countries, they are still found to have benefits. Thus, the efficacy of LDL-lowering therapy with PCSK9 inhibitors should be validated in Japanese subjects. Two PCSK9 inhibitors, alirocumab and evolocumab, recently became available in Japan.6–8 ODYSSEY Japan is a randomized, double-blinded clinical trial that validated the efficacy and safety of alirocumab in Japanese patients with heterozygous familial hypercholesterolemia (FH) or non-FH with high coronary risks. In this issue of the Journal, Teramoto and colleagues9 compare the effect of alirocumab (75 or 150 mg every 2 weeks) and placebo for 52 weeks in patients on stable statin therapy. Alirocumab reduced the LDL-C levels by more than 60%, to 53.5 and 53.4 mg/dl at 24 and 52 weeks, respectively. The LDL-lowering effect was sustained to the endpoint of week 52, and no rebound effect was observed. Also, alirocumab markedly reduced non-HDL cholesterol and apolipoprotein B levels. In some cases, the LDL-C level was <25 mg/dl, but no significant adverse effect was seen. The agent was generally well tolerated and few patients discontinued treatment because of adverse effects, indicating that it does not appear to have the hepatic and muscle-related side effects often accompanying statin therapy in Japanese patients.
It has been postulated that statins have a variety of anti-atherosclerotic effects beyond the LDL-C level, which are referred to as "pleiotropic effects". It remains unclear whether the LDL reduction by the PCSK9 inhibitor is accompanied by a comparable event reduction to that of statins. Cardiovascular protective effects of PCSK9 inhibitors have not been definitely established yet, though some analyses of incidentally reported or secondary outcomes have suggested potential beneficial effects. It has been reported that gain-of-function or loss-of-function mutations in the PCSK9 genetic locus are associated with high or low incidence of atherosclerosis, respectively, which may support the benefit of PCSK9 inhibitors. It should be noted that there was a criticism that underutilization of the maximum dose of statins in high-risk patients may have overestimated the benefit of PCSK9 inhibition in some clinical trials.10 Thus, given the high cost of this drug, it seems reasonable at present to start this drug in high-risk patients on sufficient statin therapy who have not reached LDL-C target goals (Table). In addition, patients with statin intolerance or adverse effects may be good indications.11 It would also be clinically applicable for patients with several types of FH, although it is not effective in patients who are homozygous for dual allele LDL-receptor negative mutants or those with homozygous autosomal recessive hypercholesterolemia. On the other hand, PCSK9 is a regulator of the plasma lipoprotein(a) concentration, which is a strong risk factor for CAD.12 Teramoto et al reported that alirocumab reduced lipoprotein(a) by 40%, implicating the potential effect of this drug on the plasma lipoprotein(a) level.9 Furthermore, PCSK9 has been reported to promote overproduction of triglyceride-rich, apolipoprotein B48- and B100-containing lipoproteins in the intestine and liver through both LDL receptor-dependent and -independent mechanisms,13 suggesting that PCSK9 inhibitors may reduce triglyceride-rich lipoproteins as well. The clinical effect of PCSK9 inhibitors on these non-LDL lipids and other primary hyperlipidemia should be investigated in the future.
Table. Possible Current Clinical Applications of PCSK9 Inhibitors*
High-risk patients not achieving LDL-C target goals with high-dose statins
Several types of familial hypercholesterolemia**
Statin intolerance
High lipoprotein(a)
Others
*These applications do not always come under insurance coverage in Japan. **Effect has not been seen in homozygous patients with dual allele LDL receptor negative mutants or in those who are homozygous for autosomal recessive hypercholesterolemia. LDL-C, low-density lipoprotein cholesterol.
In conclusion, the finding of a marked reduction of LDL-C without significant adverse effects well over 52 weeks may help this drug to expand the therapeutic strategy for hypercholesterolemia and high-risk patients on stable statin therapy. It has been believed by a large number of interventional trials of statins that "the lower the LDL-C, the better the cardiovascular outcome". However, it remains unclear if this is the case with an extremely low LDL-C level (ie, <50–60 mg/dl) in Japan. Now that the efficacy and safety of PCSK9 inhibitors are proven in Japanese patients,6–9 it is no exaggeration to say that we have reached a new era in determining whether "the far lower, the far better" story is true.
Disclosures
T.I. has received lecture honoraria from MSD and Mochida Pharmaceutical.