Pulmonary hypertension (PH) is a rare but life-threatening cardiovascular disease characterized by a pathologic increase in resistance in the pulmonary circulation.1 PH due to left heart disease (LHD), categorized as group 2 PH according to the most recent classification scheme (Nice, 2013), has the largest patient population among the 5 types of PH.2
Article p ???
Renal dysfunction3,4 and anemia5 are classic prognostic parameters in patients with chronic heart failure (HF) including PH. The triangular relationship among these disorders is also known as the "cardio-renal-anemia syndrome".6 These 3 conditions create a vicious cycle, in which each of these pathologies can cause (or result from) another. Therefore, routine blood tests are mandatory in patients with HF to detect anemia, assess renal and liver function, and measure B-type natriuretic peptide (BNP) levels. Natriuretic peptide levels increase with age and renal impairment,7 and can be elevated in cases of right HF from any cause.8 In addition, the association between low hemoglobin values and adverse HF outcomes has long been recognized.9 Decreased hemoglobin levels are associated with increased severe symptoms, reduced exercise capacity, and impaired renal function. Furthermore, chronic kidney disease is associated with impaired intracardiac conduction and progressive cardiac diastolic dysfunction.3,10
Recent studies have demonstrated that hemodynamic parameters made available THROUGH use of the Swan-Ganz catheter, including the transpulmonary pressure gradient (TPG),11 diastolic pulmonary pressure gradient (DPG),12 and pulmonary vascular resistance (PVR),13 are important prognostic factors in patients with PH due to LHD. For example, post-capillary PH (pc-PH; mean pulmonary arterial pressure, ≥25 mmHg; mean pulmonary capillary wedge pressure, >15 mmHg) is classified into 2 subtypes, with the prognostic import dependent on whether PVR or TPG is elevated. Reactive pc-PH is characterized by the presence of an elevated PVR (>2.5 Wood units [WU]) or TPG (>12 mmHg), whereas passive pc-PH sustains a normal PVR (≤2.5 WU) and TPG (≤12 mmHg). Tatebe et al reported that reactive pc-PH was associated with all-cause death in PH due to LHD.13 In addition, our single-institute study revealed no significant prognostic difference between high and low TPG in dilated cardiomyopathy with PH, whereas the incidence of cardiac death was high in patients with reactive pc-PH and DPG ≥7 mmHg.14
In this issue of the Journal a study by Yamabe et al, who investigated the factors prognostic of survival in patients with PH due to LHD.15 Their study population comprised 243 patients who were diagnosed as having PH due to LHD after undergoing right heart catheterization. Multivariate analysis revealed several independent predictors of mortality: age, more severe New York Heart Association (NYHA) functional class, elevated NT-pro BNP, decreased estimated glomerular filtration rate (eGFR), and anemia. However in this study, perhaps surprisingly, TPG and PVR lacked prognostic effect, and only DPG among the hemodynamic measurements had, albeit weak, prognostic ability.
Of course, accurate assessment of hemodynamic state remains important work to improve our understanding of the pathophysiologic conditions in severe HF patients. Nevertheless, although the "gold standard" of hemodynamic evaluation is right heart catheterization, Yamabe's research suggests that symptomatology coupled with noninvasive biomarkers, including BNP, eGFR, and hemoglobin, might be sufficient for prediction of mortality, even in cases of PH due to LHD in daily clinical practice. These prognostic biomarkers and hemodynamic parameters should weight treatment-amenable and treatment-resistant data separately: specifically, NYHA functional class, hemodynamic state, and BNP levels are treatment-amenable, but age, renal function, and anemia are basically treatment-resistant and only progressive. In the context of the study by Yamabe et al, BNP, eGFR, and anemia seem to be superior to DPG, TPG, and PVR as predictors of mortality. Consequently, the prognostic significance of specific biomarkers, including hemodynamic parameters, in PH due to LHD should be challenged and validated (Figure).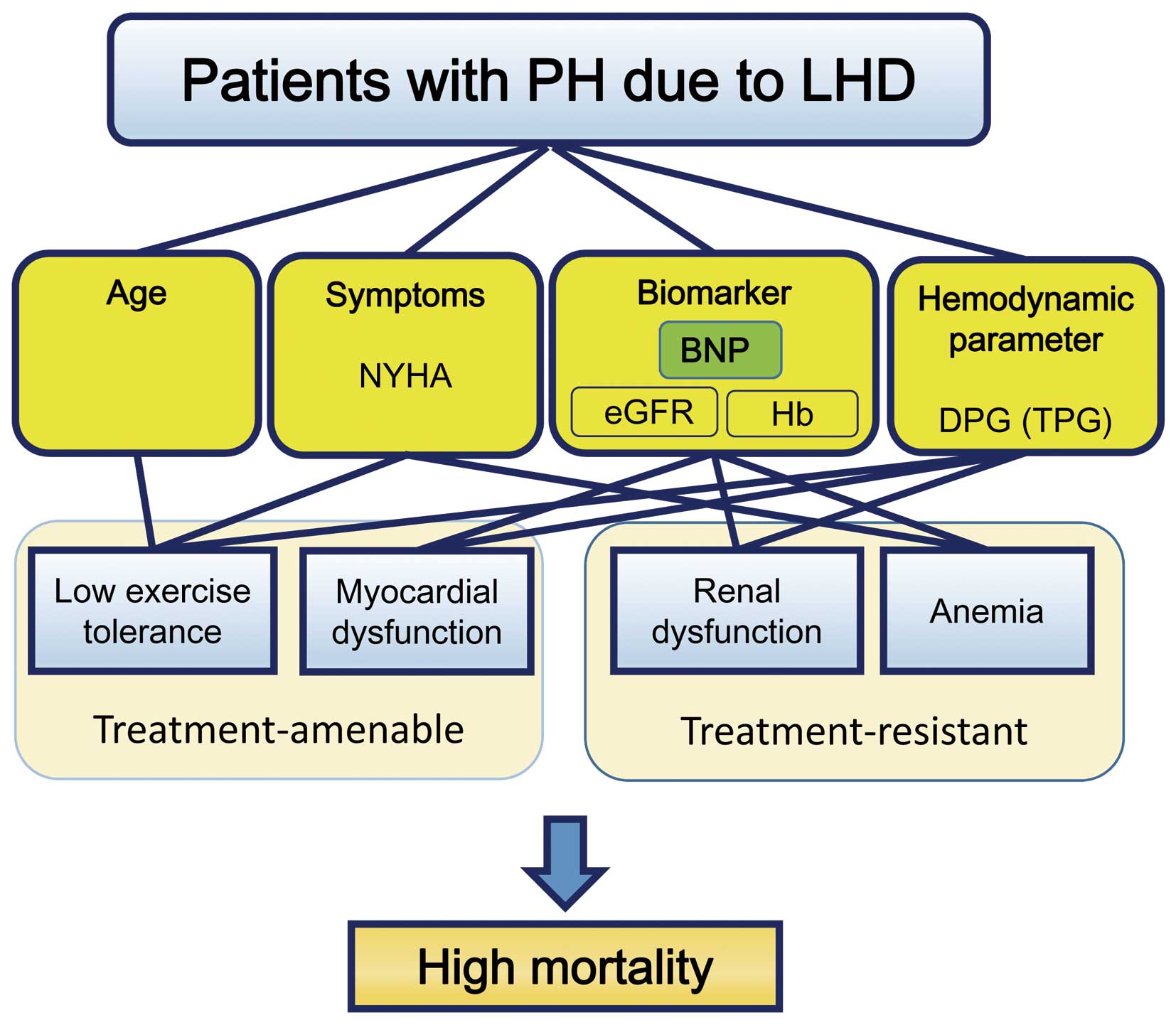 Figure.
Prognostic parameters in pulmonary hypertension (PH) due to left heart disease (LHD). BNP, B-type natriuretic peptide; DPG, diastolic pulmonary pressure gradient; eGFR, estimated glomerular filtration rate; Hb, hemoglobin; NYHA, New York Heart Association; TPG, transpulmonary pressure gradient.
We believe that the day is coming soon when clinically useful prognostic markers regardless of invasive and noninvasive examination of patients with PH due to LHD will added to current predicted markers. Clinicians will ultimately draw on a broad array of clinically useful¸ validated biomarkers – classic and current, invasive and noninvasive. The study by Yamabe and coworkers is a step in the right direction.