A 59-year-old woman with dermatomyositis, diagnosed 22 years prior to presentation, was admitted to hospital due to muscle weakness. She had been treated with prednisolone and cyclosporine from the time of diagnosis. She had steroid-induced diabetes mellitus, which was under control. She did not have other atherosclerotic risk factors such as dyslipidemia, hypertension, or smoking history. Computed tomography showed a slight aortic calcification and a right-sided aortic arch (Figure). Calcinosis was also seen under both scapulae and the right buttock, and around the shoulder joints. There were no findings suggestive of other vasculitis syndromes. At 8-year follow-up, the aortic calcification had progressed from the aortic arch to the abdominal aorta, causing severe aortic stenosis despite steroid and immunosuppressive therapy.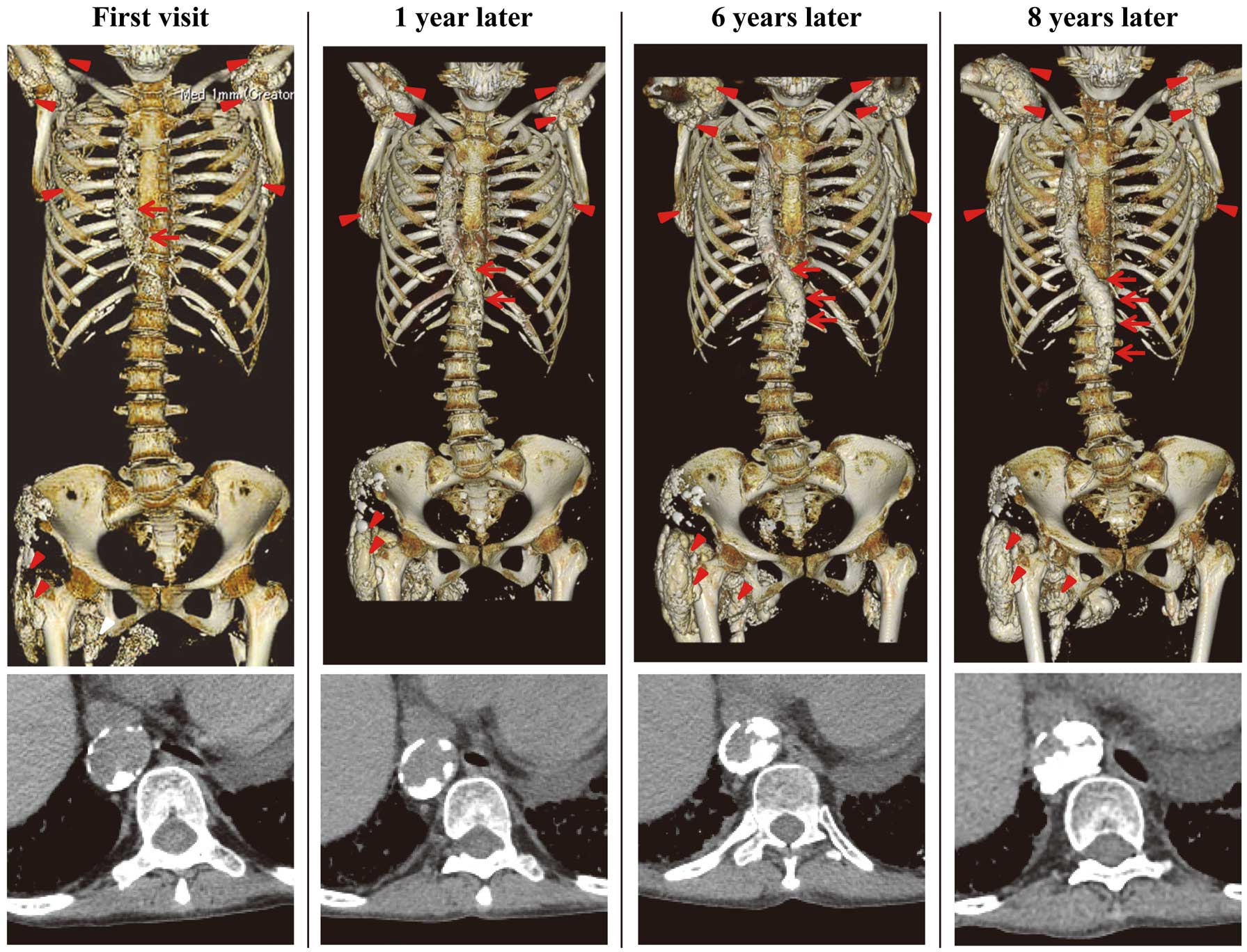 Figure.
Three-dimensional (D) bone modeling and 2-D computed tomography (CT). At the first visit, 2-D and 3-D CT showed mild aortic calcification (arrows) and a right-sided aortic arch. Calcinosis was seen under both scapulae and right buttock, and around the shoulder joints (arrowheads). During the 8-year follow-up, the calcinosis gradually increased. Aortic calcification had also progressed, resulting in severe aortic stenosis. Notably, the thoracic aorta was clearly observed in the bone models on 3-D CT.
Calcinosis, which is the deposition of calcium in the skin and subcutaneous tissues, develops in up to 20% of adults with dermatomyositis.1 Reports on advanced aortic calcification in this population, however, are limited. Vascular injury has been suggested to be involved in the pathogenesis of calcinosis.1 Moreover, atherosclerotic cardiovascular disease is reportedly more prevalent in dermatomyositis patients, and patients with both dermatomyositis and cardiovascular disease have a higher mortality than patients with only dermatomyositis or cardiovascular disease.2 Vascular inflammation and/or injury may play an important role in this phenomenon.
Disclosures
The authors declare no conflict of interest.
References
1.

Valenzuela A, Chung L, Casciola-Rosen L, Fiorentino D. Identification of clinical features and autoantibodies associated with calcinosis in dermatomyositis. JAMA Dermatol 2014; 150: 724–729.

2.

Linos E, Fiorentino D, Lingala B, Krishnan E, Chung L. Atherosclerotic cardiovascular disease and dermatomyositis: An analysis of the Nationwide Inpatient Sample survey. Arthritis Res Ther 2013; 15: R7.