A 74-year-old woman with aortitis syndrome, surgical replacement of the ascending aorta and aortic valve replacement (AVR) with a 23-mm bovine pericardial bioprosthesis in 1999 (Figure A,B) presented with progressive dyspnea corresponding to New York Heart Association (NYHA) classification III. Transthoracic echocardiography revealed pulmonary hypertension and a degenerated bioprosthesis with severe stenosis and moderate regurgitation (Figure C–G). The Society of Thoracic Surgeons score for re-do AVR was calculated at 20.4%. The heart team therefore decided on valve-in-valve transcatheter aortic valve implantation (TAVI) using the Evolut R system (Medtronic Inc). Due to the aortitis, the patient suffered from chronic aortic dissection and bilateral subclavian artery occlusions (Figure H); however, the left femoral access was thought to ensure access to the true lumen through cutdown procedures, and an 18Fr sheath was inserted into the left iliofemoral system. Considering the replaced ascending aorta and need for strong backup, we selected the pre-shaped Lunderquist. Not only did this wire provide good translation of femoral catheter manipulations to the device tip, but it helped maintain position along the outer curve of the aortic arch and ascending aorta (Figure I). The 26-mm valve was implanted successfully (Figure J) and the clinical course was uneventful with improved symptoms (NYHA class I). This is the first case of successful TAVI in a degenerated bioprosthesis complicated by aortitis syndrome, owing to advanced devices and techniques and careful preoperative planning.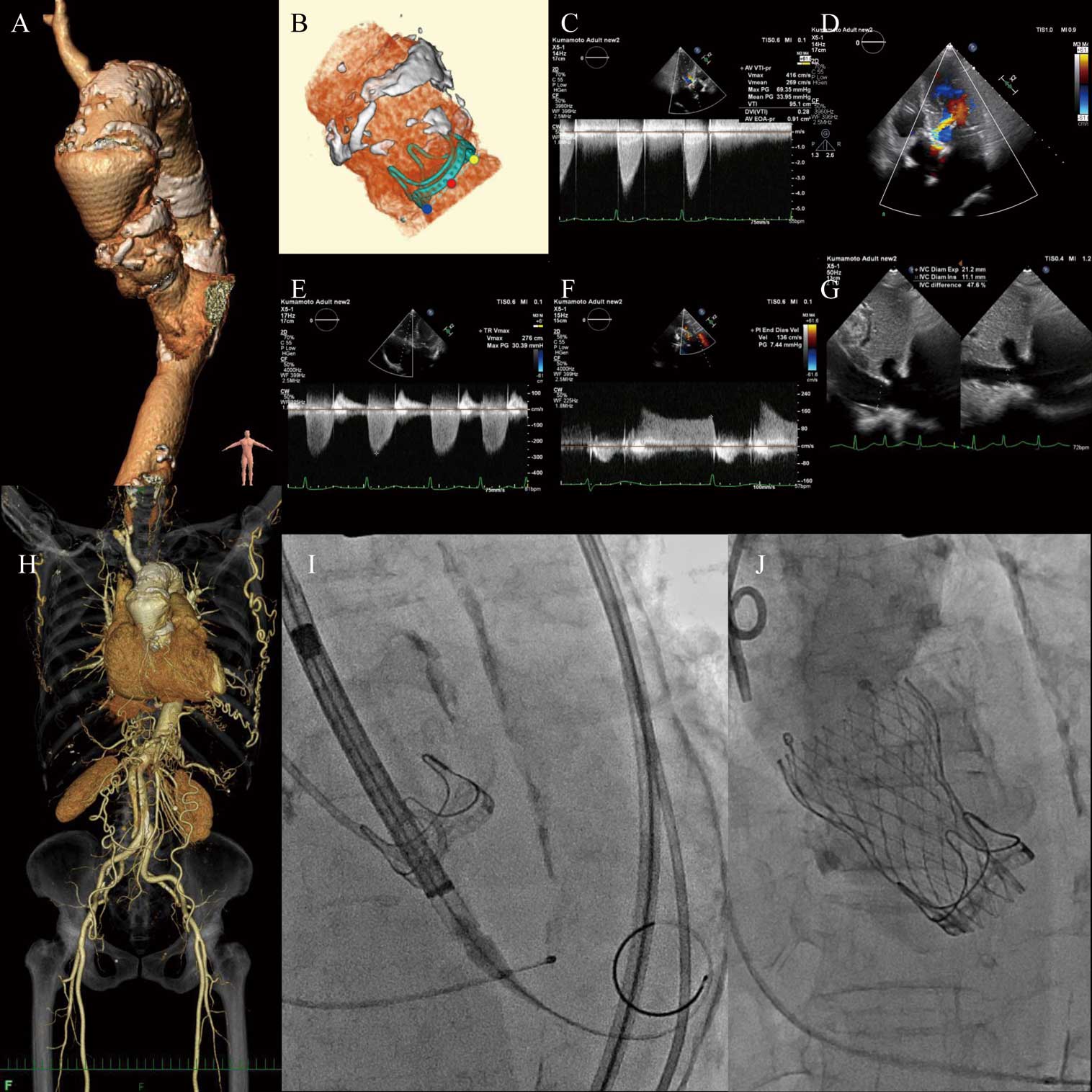 Figure.
(A,B) Computed tomography (CT) showing status after ascending aorta replacement and aortic valve replacement with bioprosthesis. (C,D) Transthoracic echocardiography (TTE) showing peak transaortic jet velocity of 4.16 m/s, and aortic valve area of 0.91 cm2 with moderate aortic regurgitation. (E–G) TTE findings suggesting pulmonary hypertension and inferior vena cava dilatation. (H) CT showing aortic dissection and bilateral subclavian artery occlusions. (I,J) The Lunderquist wire helped to successfully deliver the 26-mm valve.
Disclosures
The authors declare no conflicts of interest. K.T. is a member of Circulation Journal's Editorial Team.