Abstract
To explore the effect of the presence of a self-assembled monolayer (SAM) of an alkyl thiol derivative as an underlayer of a Nafion film, redox reaction of methyl viologen (MV) at the Au/SAM/Nafion (1 µm-thick) interface was characterized using the results of the voltammetric and electroreflectance measurements. The perfluorinated SAM slowed the kinetics of the interfacial electron transfer process compared to a Au/Nafion electrode, whereas 1-dodecanethiol SAM accelerated it. However, both the SAMs decreased the voltammetric current by half. Importance of the approach to underlay a SAM was discussed.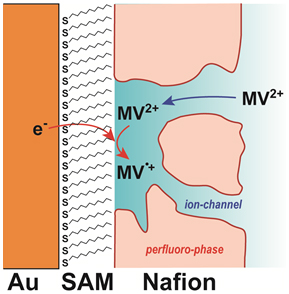 © The Author(s) 2020. Published by ECSJ.

This is an open access article distributed under the terms of the Creative Commons Attribution 4.0 License (CC BY, http://creativecommons.org/licenses/by/4.0/), which permits unrestricted reuse of the work in any medium provided the original work is properly cited. [DOI: 10.5796/electrochemistry.20-00132].
http://creativecommons.org/licenses/by/4.0/