Abstract
Approximately 10% of patients with colorectal cancer (CRC) develop malignant large bowel obstruction (MLBO) at diagnosis. Furthermore, for 35% of patients with MLBO, curative primary tumor resection is unfeasible because of locally advanced disease and comorbidities. The practice of placing a self-expandable metallic stent (SEMS) has dramatically increased as an effective palliative treatment. Recent advances in systemic chemotherapy for metastatic CRC have significantly contributed to prolonging patients' prognosis and expanding the indications. However, the safety and efficacy of systemic chemotherapy in patients with SEMS have not been established. This review outlines the current status of this relatively new therapeutic strategy and future perspectives. Some reports on this topic have demonstrated that 1) systemic chemotherapy and the addition of molecular targeted agents contribute to prolonged survival in patients with SEMS; 2) delayed SEMS-related complications are a major concern, and this requires strict patient monitoring; however, primary tumor control by chemotherapy might result in decreased complications, especially regarding re-obstruction; and 3) using bevacizumab could be a risk factor for SEMS-related perforation, which may be lethal. Although this relatively new approach for unresectable stage IV obstructive CRC requires a well-planned clinical trial, this therapy could be promising for patients who are unideal candidates for emergency surgery and require immediate systemic chemotherapy.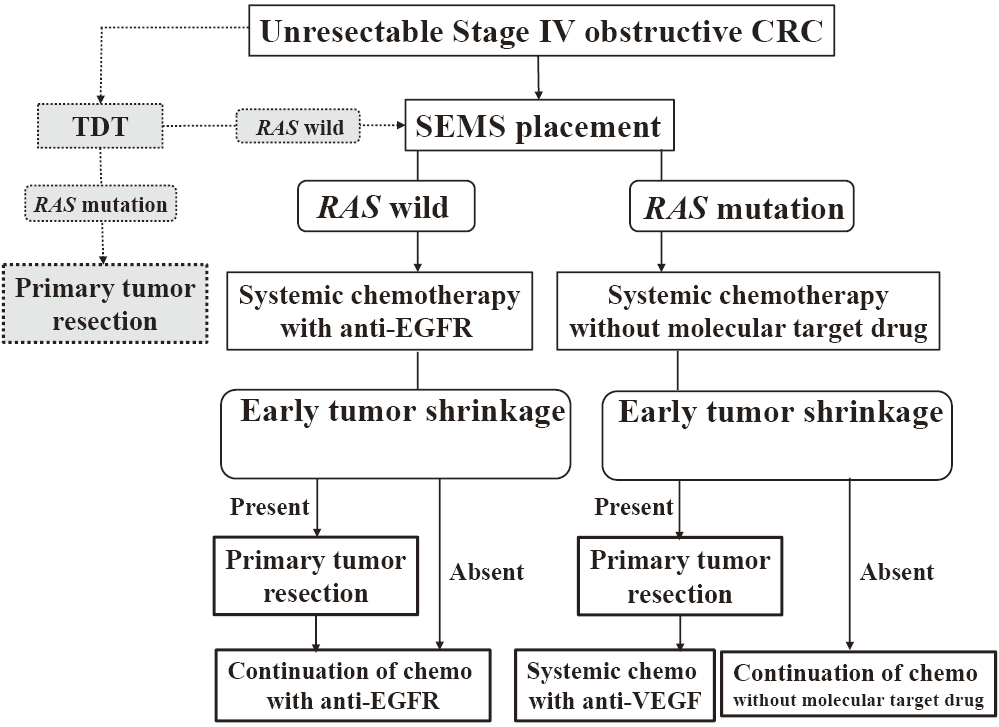 © 2021 The Japan Society of Coloproctology

JARC is an Open Access journal distributed under the Creative Commons Attribution-NonCommercial-NoDerivatives 4.0 International License. Anyone may download, reuse, copy, reprint, or distribute articles published in the Journal for non-profit purposes if they cite the original authors and source properly. If anyone remixes, transforms, or builds upon the material, you may not distribute the modified material.
https://creativecommons.org/licenses/by-nc-nd/4.0/