Abstract
Over the last decade, combination of drugs in all stages of pharmaceutical development has accelerated availability of promising new therapies for difficult to treat diseases. Safety assessment of combined drugs to be tested in humans can occur at a critical path prior to proceeding in clinical testing. A recent survey by The International Consortium for Innovation and Quality in Pharmaceutical Development (IQ DruSafe) summarized member companies' approaches to combination safety strategies. In addition, feedback from Health Authorities (HAs) support a case-by-case scientific approach in assessing combination products' safety in accordance with the International Council on Harmonization (ICH) guidelines. Here, we present Pfizer's drug combination safety approach for various therapeutic areas (TA) including inflammation and immunology, metabolic, and anti-cancer products. There is no one-size-fits-all approach; rather, our main considerations include: strength of the existing clinical safety data for the individual compounds, common target organs, the potential for a synergistic effect, potential drug-drug interaction, routes of administration of each product and disease indications. No formal toxicity studies are considered necessary for anti-cancer drugs, while safety endpoints may be collected in preclinical pharmacology studies especially when the combined drugs present a novel mechanism. Combination safety studies when conducted for non-cancer indications can range from 2 to 13-weeks in duration, conducted usually in rodents, with dosages of individual molecules within clinical pharmacologic ranges. A case-by-case strategy guided by scientific rationale and in close collaboration with HAs remains the best approach to decide on the design and conduct of combination safety studies.
INTRODUCTION
With increased complexity of diseases that are still in need of meaningful therapeutic intervention, the use of a single drug can provide an inadequate or only partially effective outcome. The use of combination drug treatment can therefore be attractive to tackle some of these hard-to-treat diseases such as cancer, metabolic or immune-related conditions. The challenge is how to develop a combination treatment that is not only effective but also safe or at least provides a positive benefit-to-risk outcome for patients. Several regional regulatory guidance documents have been developed (Food and Drug Administration [FDA], 2006; European Medicines Agency [EMA], 2008) which outlined the required safety assessment that will be needed to develop combination drug therapeutics. These initial guidelines covered primarily fixed dose combination (single dosage form [FDC]) and were ultimately consolidated as part of the overarching International Council for Harmonization (ICH) guideline documents ICH-M3(R2) and ICH-S9 that are implemented globally. It is worth noting that safety assessments for combination therapy development are not just for FDCs but also cover co-packaged products, labeling of products for co-use, and incidental co-use with other standard-of-care therapeutics.
Despite the presence of such guidelines, companies still struggled at defining what is exactly needed and if the same non-clinical safety strategy should be applied to all projects. A few publications emerged that summarized either the process for developing combination drugs (Lodola, 2011) or more recently Innovation and Quality in Pharmaceutical Development (IQ DruSafe) members' experience and practical steps taken to develop combination toxicity studies (Birkebak et al., 2019). Such publications attempted to bridge the gap between Health Authorities' (HAs') expectations and the standard practice that companies are utilizing to support combination drug development. Safety assessment of combination products should always be guided by scientific judgment and proactive engagement of HAs to ensure patient safety. The predominant factor that emerged is that there is no one-size-fits-all approach to combination drug development; instead, submission of strong scientific and/or practical rationale justifying the expected added therapeutic benefit and patients' safety will help in securing HAs' approval to begin testing such combination treatments in humans. The following section summarizes the evolution and content of the ICH documents as they relate to combination drug development. We then describe Pfizer's safety assessment strategy related to combination drug products and use examples from Pfizer's portfolio to clarify the strategy we utilize. We hope this will emphasize the fluidity of our approach to improve the chances of bringing forward the best combination drug products that will positively modify diseases while remaining within HAs' expectations and ultimately aiming for maximum benefit and safety of patients.
SUMMARY OF REGULATORY GUIDANCE
Documents related to combination toxicity assessment in drug development
Guidance for combination toxicology studies were originally described in region-specific documents such as the Guidance for Industry: Nonclinical Safety Evaluation of Drugs or Biologic Combinations (FDA Guidance, 2006) or the Guideline on the Non-Clinical Development of Fixed Combinations of Medicinal Products (EMA Guideline, 2008). Overall, the position adopted by the EMA seems to be consistent with that of the FDA with some differences (for details see Table 1). Despite these country-specific regulations/documentation which emerged between 2006-2008, requirements for safety assessment of combination products were eventually harmonized within the ICH guidelines that are adopted globally such as ICH-M3 (R2), ICH-S9 and their corresponding Q&A documents (Table 2). In Japan, there is no combination toxicology-specific guideline; however, Japan is a part of the ICH and development of combination treatments in Japan will follow the appropriate ICH guidelines.
Table 1. Summary of country-specific regulatory guidance related to combination toxicity assessment (including biologics): phase of development of the combined drugs.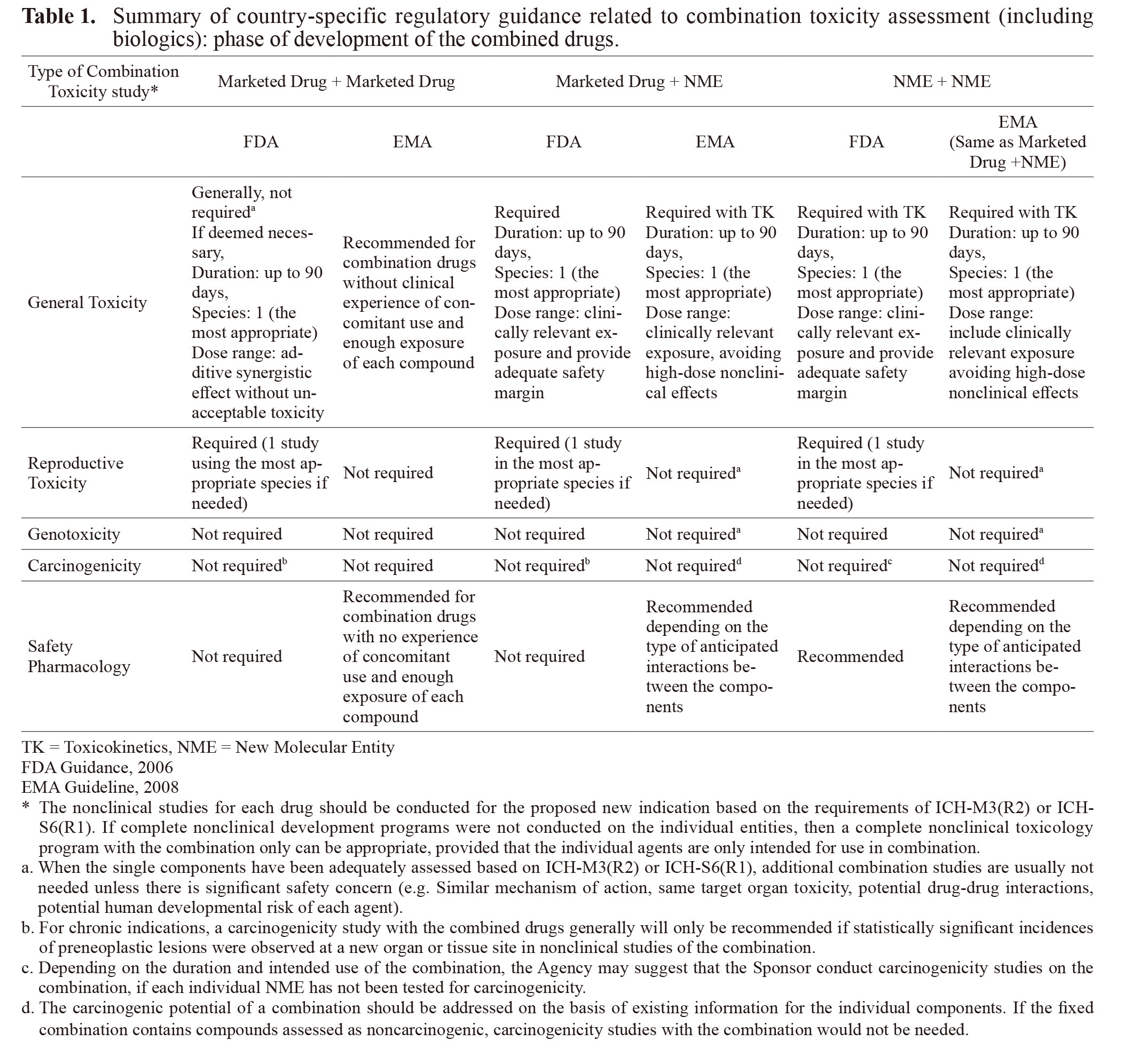 Table 2. Summary of ICH guidelines related to combination toxicity assessment.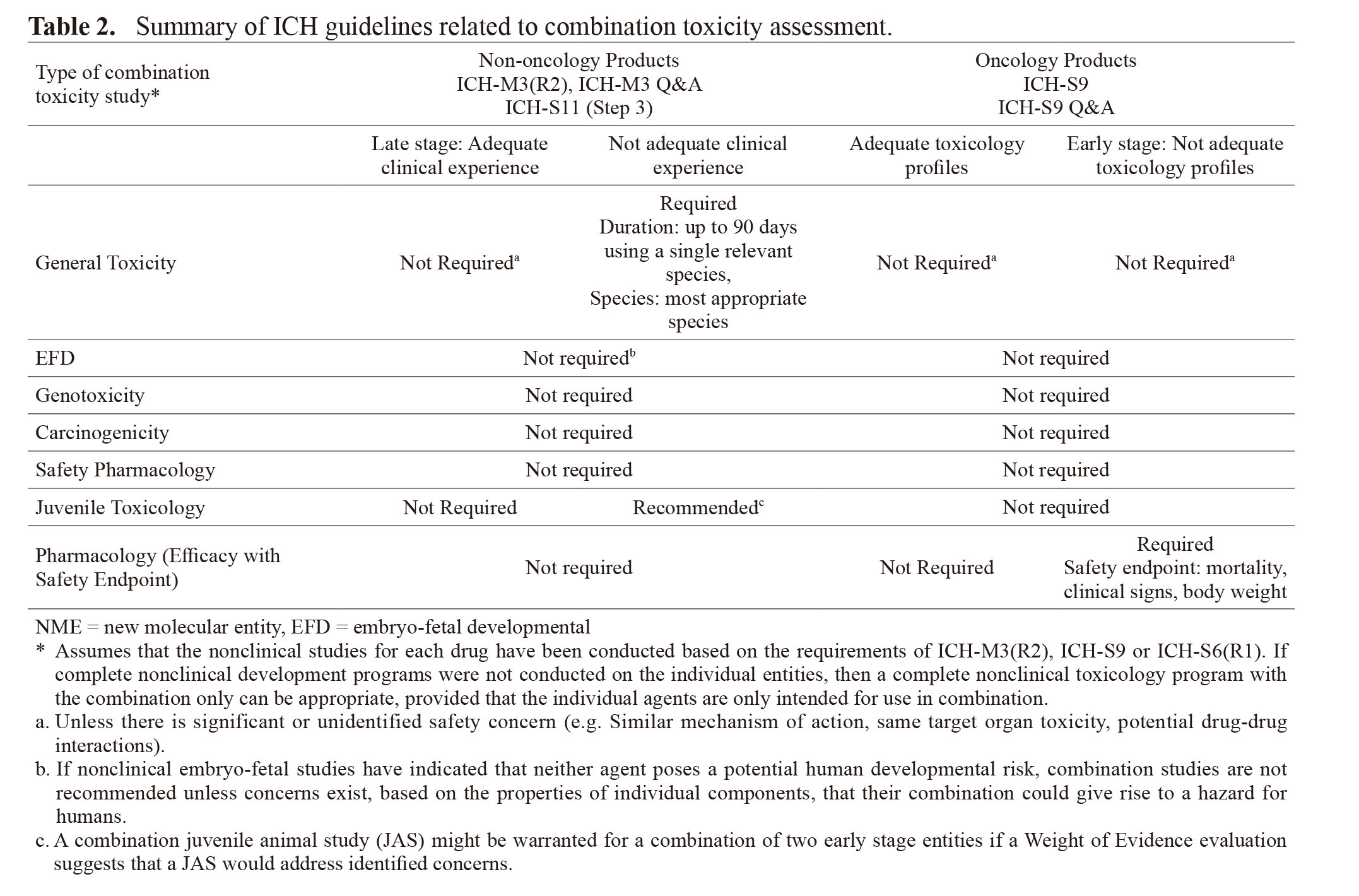 These ICH guidelines are split based on the patient population they serve, with ICH-M3 (R2) being more general (covering various therapeutic areas [TA] and patient population) while ICH-S9 focuses on anticancer pharmaceuticals for the treatment of patients with advanced disease and limited therapeutic options. Therefore, risk tolerance is higher in ICH-S9 (patients with advanced disease) compared to ICH-M3 (R2). In general, the combination safety testing is dependent on the stage of development of each of the combined drugs, more advanced drugs (i.e., marketed or in late stages of development) allow less non-clinical testing than new molecular entities (NMEs) with limited non-clinical and clinical safety data.
Even though the ICH guidelines are the more relevant and recommended guidelines to follow when developing combination treatments, the country-specific guidance is still being referenced and utilized by certain HAs. The country-specific guidelines provide information that is not as detailed in the ICH documents and should be referred to when developing certain combination products. For example, the FDA guidance describes in much detail the type of studies and design that would be appropriate when combining two marketed drugs or marketed and NME or two NMEs; it also includes information related to combining protein biotherapeutics thus filling a gap in ICH-S6(R1) which covers large therapeutics but does not include a section on combination therapy and ICH-M3(R2) which does not discuss large therapeutics in the combination section of the guidance.
A comparison of FDA and EMA-specific guidelines is interpretatively summarized in Table 1. Similar to ICH guidelines, combination safety assessment is dependent on the stage of development of the combined drugs. Usually, the nonclinical studies for each drug would have been conducted (late stage) or would be conducted (early stage) based on the requirements of ICH-M3 (R2), ICH-S9 or ICH-S6(R1). If based on scientific rationale safety concern is not expected upon combining the drugs (e.g. lack of similar mechanism of action or same target organ toxicity or potential for drug-drug interaction[DDI]…etc.), then there is no need for a non-clinical combination toxicity study particularly if there is sufficient clinical combination experience (Phase III clinical trial or post-marketing data). By contrast, in the case that there is not enough clinical combination experience, then a non-clinical combination toxicity study up to 90 days using appropriate animal species is recommended prior to clinical trial start for non-oncology indications. If combination toxicity study is warranted, study design should be driven scientifically to fill any gap of safety information for either of the drugs.
Regarding the type of toxicity assessment, general toxicity studies are the most common studies conducted; however, specialty safety studies such as developmental, genetic toxicity or safety pharmacology studies may be needed on a case-by-case basis. For example, combination treatment for pediatric indication may require a juvenile animal study (JAS) when two early stage entities are combined and where a weight of evidence evaluation suggests that a JAS would address identified concerns in pediatric population that is not relevant or could not be assessed in adult population. Conversely, a combination toxicology JAS is generally not recommended for a combination of two late stage entities for which there is adequate pediatric clinical experience with combination drugs in accordance with ICH-S11 (Step3).
CASE STUDY IN PFIZER'S STRATEGY
Pfizer focuses on 5 main TA: oncology, inflammation & immunology, rare diseases, internal medicine and vaccines. Most of these TA include hard-to-treat diseases such as the non-alcoholic steatohepatitis (NASH), where combining more than one drug and utilizing complementary mechanisms of action may lead to more effective treatments. Similarly, treatment of cancer depends on combining different drugs in the hope of achieving synergistic efficacy that delivers more meaningful outcomes to patients. To this end, Pfizer established and continues to refine its non-clinical strategy for the development of combination medicines that allows expeditious development under the guidance of the ICH principles while keeping patient safety at the forefront.
For combination treatment projects, outlining the clinical plan as early as possible is key so an adequate nonclinical safety strategy can be devised and executed. In general, for oncology indications, no combination toxicity study is proposed while safety endpoints may be collected from pharmacology studies particularly if the combination is novel. For non-oncology indications, the non-clinical safety plan includes timely engagement of HAs on weight of evidence for need or no need to conduct combination toxicity studies. The proposal presented for discussion with HAs includes scientific justification, TA, existing safety data, and the stage of clinical development of the drugs to be combined, all while keeping in accordance with ICH guidelines. If enough lead time is not feasible to consult with HAs, Pfizer proceeds with conducting a default 90-day rodent combination toxicity study to enable the clinical trial to ensue. In either case, the main objective of the non-clinical safety strategy is to keep non-clinical drug safety assessment off the critical path in order not to incur project delays. The field of combination safety assessment continues to evolve, and Pfizer's strategy takes this into consideration and will continue to adjust and improve it on a case-by-case basis based on internal experience as well as experience gathered from other pharmaceutical companies in the industry.
The following examples highlight Pfizer's approach and experience with combination safety studies (Example 1 to 5).
Example 1: Combining a small molecule marketed drug with another small molecule drug in early development
A small molecule drug marketed for moderately to severely active rheumatoid arthritis (RA) was planned to be combined with another orally bioavailable small molecule drug that is in early development for immune-related diseases. Both compounds have distinct but complementary mechanisms of action supporting testing them in combination to potentially achieve improved efficacy in a population of patients who did not achieve or could not maintain remission on current therapies. Effectiveness of this combination was to be tested in an initial 12-week clinical trial to determine the safety, efficacy and tolerability of the combination. If successful, a 6-month pivotal trial would be conducted. To support this clinical plan, Pfizer proposed to the FDA to conduct a 90-day combination toxicity study in the rat prior to the start of the pivotal trial in accordance with the ICH-M3(R2) guideline. Non-clinical safety package included a full battery of toxicology studies (up to chronic), safety pharmacology, reproductive toxicology and carcinogenicity and genotoxicity studies for the marketed compound, while studies up to the chronic phase were completed for the other compound. Organs of toxicity for the marketed drug included the immune and the hematopoietic systems, while the second drug adversely targeted non-immune-related organs. However, some non-adverse findings in immune system (related to the efficacy) were also observed. Accordingly, the proposed combination toxicity study was to assess the safety considering the risk of additive immunosuppression and any associated potential toxicities. The rat was justified as the most sensitive species and the initial study design was to only include female rats (higher exposure than males and the observed target organs were not related to reproductive organs); however, the FDA recommended the inclusion of both genders to evaluate potential novel toxicities and/or DDI with the combination. Study results did not identify any new target organ toxicities related to combining the 2 drugs; however, a non-adverse test article-related finding was observed in the spleen as a result of combining both drugs. Based on the non-clinical combination toxicity study, the FDA agreed that the collective nonclinical package supports the conduct of the proposed Phase 2 clinical study which was initiated without the need to modify the study design, the proposed doses or the inclusion of other monitoring endpoints.
Example 2: Combining two small molecule marketed drugs utilizing a new route of administration for one
A small molecule orally administered drug marketed for RA is being developed for a new indication in moderate to severe atopic dermatitis (AD) in combination with another marketed, topically administered, anti-inflammatory small molecule drug. The mechanism of action for both drugs is different from each other; however, each active component individually and uniquely targets the pathogenesis of AD. Complete non-clinical registrational safety package for each marketed compound in their original route of administration is available. Based on preliminary consultation with the FDA, a 6-month proof of concept (POC) clinical trial with the proposed combined drugs was initiated without the need for a combination nonclinical dermal toxicity study; however, a longer term 9-month minipig dermal combination toxicity study was requested prior to initiation of Phase 3 long-term clinical study in accordance with ICH-M3(R2). The Sponsor asked various HAs to leverage the results of the 9-month minipig dermal combination toxicity study as a waiver for not conducting a topical carcinogenicity study with this compound. Various HAs had different responses; whereas the FDA for example agreed to consider this request if the 9-month minipig dermal combination toxicity study did not detect any pre-neoplastic or hyperplastic lesions and did not reveal concerns regarding carcinogenicity, the Pharmaceuticals and Medical Devices Agency (PMDA) on the other hand recommended providing more clear scientific rationale by conducting investigative studies or relying on scientific literature. The PMDA supported their opinion by citing the immunosuppressive action, genotoxicity (chromosome aberration positive) and affinity to melanin that were earlier identified with this compound, in addition to the lack of sufficient background data of dermal minipig toxicity studies in general.
Example 3: Combining two small molecule drugs in early development
Two small molecule orally available drugs in early development stage are planned to be combined for the treatment of NASH with liver fibrosis. Co-administration of these two drugs, whose mechanisms of action address complementary or orthogonal pathogenic factors, is expected to have the potential to deliver greater efficacy and to mitigate a pharmacology-related undesirable side effect noted with higher doses of one of the combined drugs. Both drugs are in early Phase 2 clinical development with limited human safety data. In non-clinical studies, both drugs were tested in rats and non-human primates (NHPs) for studies up to 9 months with one drug and 16 weeks for the other. No overlapping organs of toxicity were identified non-clinically suggesting lack of exacerbated toxicity by the concomitant administration of both compounds. To support a 6-week combination Phase 2 clinical trial, Pfizer conducted a 6-week combination toxicity study in NHPs (deemed the more relevant species based on toxicity profile and relevance to humans). No new or exaggerated toxicities were observed. Accordingly, Pfizer proposed that no additional combination toxicity studies would be needed based on the results of the 6-week combination toxicity study and the lack of new or increased sensitivity in longer term toxicity studies with the individual agents. The FDA however requested an additional 90 days of combination toxicity study to support registration of the combined agents highlighting that this treatment is intended to be administered chronically to patients and that the two agents are without extensive clinical experience as single agents.
Example 4: Combining two large molecule drugs, one marketed and the second in early development
An immuno-oncology (IO) relevant monoclonal antibody marketed for the treatment of various tumor types was planned to be combined with another IO monoclonal antibody that was in early development as an anti-cancer drug. Based on the ICH-S9 guideline, combination toxicity studies are usually not warranted prior to clinical trials with the combined agents. Since both agents have distinct but complementary mechanisms of action (both are immunostimulators by either blocking anti-inhibitory pathway or co-stimulating T cell-mediated tumor killing), the FDA requested that an in vitro cytokine release assay be conducted to assess the level of immune stimulation that may occur when combining both agents. Furthermore, given the complementary mechanism of action and the lack of sufficient clinical experience with one of the agents, Pfizer tested the combination using surrogate mouse-specific agent to enhance confidence in the combined mechanism and to ensure patient safety. Neither study revealed any exaggerated immune stimulation and the results facilitated treatment with the combination in the clinic. This example underscores the importance of conducting relevant studies as needed even if not mandated by regulatory guidance to ensure patient safety. Follow-on projects with similar mechanisms were not tested using this same paradigm since the results obtained provided confidence in safety.
Example 5: Combining a large molecule and a small molecule drugs that are both in early development
An IO relevant monoclonal antibody in early development is planned to be combined with a small molecule anti-cancer drug also in early development stage. The pharmacological rationale for combining these two agents stems from the expected complementary mode of action whereby the small molecule drug, which is an inhibitor of a signaling pathway associated with down-regulation of anti-cancer immune responses, may result in significant clinical activity in patients with advanced malignancies. To examine this hypothesis, a pharmacology study was conducted in a syngeneic mouse model combining the small molecule drug with a mouse cross-reactive surrogate IO monoclonal antibody. Safety endpoints were also monitored in this pharmacology study in accordance with ICH-S9 recommendation. At the examined combined doses which resulted in synergistic tumor growth inhibition, no treatment-related effects on toleration (as measured by, mortality, clinical signs, body weight changes) were observed. Lack of exaggerated toxicity with the combination is in line with the toxicity profile of the single agents where they both displayed different non overlapping target organs of toxicity. These results will be used as supportive evidence that combination toxicology studies with these two agents will not be needed prior to starting clinical trials with this combination.
DISCUSSION AND CONCLUSION
The field of combination drug development continues to evolve and so does the pharmaceutical industry's knowledge regarding non-clinical safety assessment supporting the safe testing of such products in humans. The past few years have witnessed increased interactions between the various HAs and the pharmaceutical companies in the spirit of refining the requirement and design of the non-clinical safety packages. These interactions, utilizing real-life examples, support the utilization of case-by-case strategy to reduce the number of unnecessary studies and minimizing animal use (3R's: Replacement, Reduction and Refinement). At Pfizer, the safety packages supporting combination products are designed within the realm of regulatory guidance documents and using scientific judgment. Combination safety studies should be conducted when they can add to patient safety by contributing to modification of the clinical design, the doses/dosing regimen, or adding a monitorable biomarker to address potential safety endpoint. Safety information regarding combination products can also be proactively obtained from other sources such as experience with other products with similar mechanism of action or recently published data that can shed light / strengthen the scientific justification for combining the drugs. When the combined drugs present low risk of DDI, non-overlapping pharmacologic mechanism and /or target organs of toxicity, and adequate clinical experience, such information should be utilized to support not conducting nonclinical safety studies. Ultimately, a case-by-case (not one-size-fits all) strategy guided by scientific rationale remains the best path to decide on the need to conduct safety studies to ensure patients safety.
ACKNOWLEDGMENTS
We would like to thank Eri Uchida (Pfizer R&D Japan) for excellent project management technical skills and Dr. Ikuo Horii (Pfizer Global Consultant) for review and helpful discussions in preparation of this original article.
Conflict of interest
All authors are employees of Pfizer, Inc. USA and Pfizer R&D Japan G.K.
REFERENCES
Birkebak, J., Buckley, L.A., Dambach, D., Musvasva, E., Price, K., Ralston, S. and Sacaan, A. (2019): Pharmaceutical industry perspective on combination toxicity studies: results from an intra-industry survey conducted by IQ DruSafe Leadership Group. Regul. Toxicol. Pharmacol., 102, 40-46.
EMEA. (2008): Guideline on the non-clinical development of fixed combinations of medicinal products. CHMP/EMEA/CHMP/SWP/258498/2005. At URL https://www.ema.europa.eu/documents/scientific-guideline/guideline-non-clinical-development-fixed-combinations-medicinal-products_en.pdf
FDA. (2006): Nonclinical Safety Evaluation of Drug or Biologic Combinations. At URL https://www.fda.gov/regulatory-information/search-fda-guidance-documents/nonclinical-safety-evaluation-drug-or-biologic-combinations
ICH harmonized guideline M3(R2) (2009): Guidance on Nonclinical Safety Studies for the Conduct of Human Clinical Trials and Marketing Authorization for Pharmaceuticals. At URL https://database.ich.org/sites/default/files/M3_R2__Guideline.pdf
ICH harmonized guideline S9 (2010): Nonclinical Evaluation for Anticancer Pharmaceuticals. At URL https://database.ich.org/sites/default/files/S9_Guideline.pdf
ICH harmonized guideline M3(R2) Q&A(R2) (2011): Questions & Answers: Guidance on Nonclinical Safety Studies for the Conduct of Human Clinical Trials and Marketing Authorization for Pharmaceuticals. At URL https://database.ich.org/sites/default/files/M3_R2_Q%26As_R2_Q%26As_0.pdf

ICH harmonized guideline S6 (R1) (2011): Preclinical Safety Evaluation of Biotechnology-Derived Pharmaceuticals. At URL https://database.ich.org/sites/default/files/S6_R1_Guideline_0.pdf

ICH harmonized guideline S9 Q&A (2018): Questions and Answers: Nonclinical Evaluation for Anticancer Pharmaceuticals. At URL https://database.ich.org/sites/default/files/S9_Q%26As_Q%26As.pdf
ICH harmonized guideline S11 Step3 (2018): Draft Guideline on Nonclinical Safety Testing in Support of Development of Paediatric Medicines At URL https://database.ich.org/sites/default/files/S11_EWG_Draft_Guideline.pdf
Lodola, A. (2011): Developing combination drugs in preclinical studies. Methods Mol. Biol., 691, 3-16.