Abstract
ZnO-CaO-P2O5-Nb2O5 invert glasses, with ZnO substituted for CaO, were successfully prepared using a melt-quenching method. Their structures, dissolution behaviors, and antibacterial abilities were evaluated. Niobate switched its role of network former to modifier with increasing ZnO content, as Zn2+ ions preferentially coordinated with phosphate groups. In parallel, with increasing content of ZnO in the glasses, P-O-Zn bonds were formed, which crosslinked phosphate groups with ZnO acting as a network former. As a result, the glass-forming ability and chemical durability of the glasses were improved. The glasses showed antibacterial ability to gram-positive and -negative bacteria.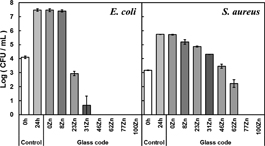 Fig. 5 Number of
E. coli
(left) and
S. aureus
(right) after cultivation with the glass powders for 24 h. "0 h control" means the seeded number of
E. coli
and
S. aureus
, and the error bar means standard deviation.
Fullsize Image