Abstract
Ag3PO4 nanospheres with an average size of ~300 nm were synthesized via a sonochemical process. The electrochemical performances of the as-synthesized Ag3PO4 nanospheres in aqueous KOH electrolyte with different concentrations were investigated by cyclic voltammetry, galvanostatic charge-discharge and electrochemical impedance spectroscopy. The measured cyclic voltammetry curves as well as charge-discharge curves reveal a good pseudocapacitive behavior of Ag3PO4 nanospheres. In a 1 M KOH electrolyte at a current density of 0.5 mA cm−2, the specific capacitance of Ag3PO4 nanospheres is obtained to be 832 F g−1. However, Ag3PO4 nanospheres exhibit an inferior charge-discharge cycling stability, which could be due to the formation of Ag2O during the cycling process.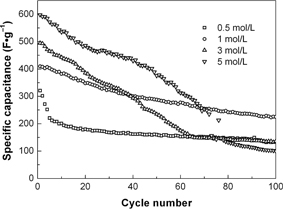 Fig. 4 Capacitance retention of Ag
3
PO
4
nanospheres as a function of the charge-discharge cycling number in different KOH electrolyte concentrations at a constant current density of 1 mA cm
−2
.
Fullsize Image