Abstract
The kinetics of reactive diffusion in the Co/Zn system was experimentally examined at solid-state temperatures. In this experiment, sandwich Zn/Co/Zn diffusion couples were prepared by a diffusion bonding technique, and then isothermally annealed in the temperature range of 523–573 K for various times up to 211 h. Owing to annealing, an intermetallic layer consisting of the γ, γ1 and γ2 phases was formed at the original interface in the diffusion couple, where the thickness is much smaller for the γ and γ1 phases than for the γ2 phase. Thus, the γ2 phase predominantly governs the overall growth of the intermetallic layer. The total thickness of the intermetallic layer increases in proportion to a power function of the annealing time. The exponent of the power function takes values of 0.54–0.56 at 523–548 K and that of 0.85 at 573 K. Consequently, volume diffusion mainly controls the layer growth at 523–548 K, but interface reaction as well as volume diffusion contributes to the rate-controlling process at 573 K.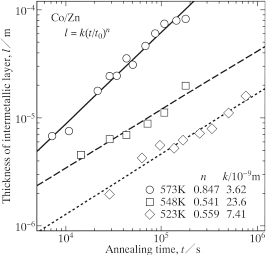 Fig. 3 The total thickness
l
of the intermetallic layer versus the annealing time
t
at
T
= 523, 548 and 573 K shown as open rhombuses, squares and circles, respectively.
Fullsize Image