Abstract
The texture evolution of an accumulative roll bonding (ARB) processed commercial purity aluminium with lubrication was measured by electron backscattering diffraction with a field emission-type scanning electron microscope. As a result of texture analysis using orientation distribution function maps, the highest intensity texture component was found to be Taylor orientation after ARB 6 cycle. The result suggests that the deformation of ultrafine grains is similar to Taylor model, which occurs in not only high purity aluminium but also commercial purity aluminium.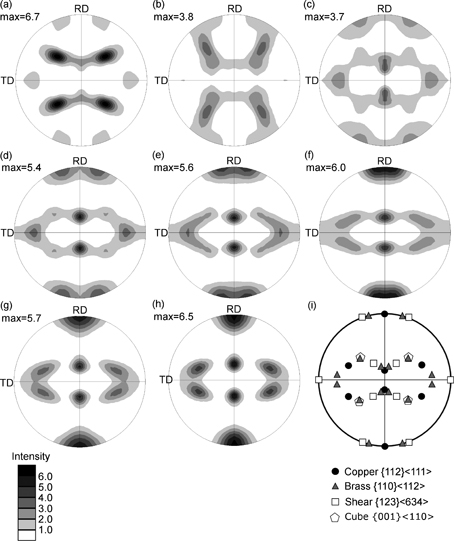 Fig. 5 (111) pole figure constructed from electron back scattering diffraction data of accumulative roll bonding processed commercial purity aluminium; (a) 0 cycle, (b) 2 cycle, (c) 4 cycle, (d) 6 cycle, (e) 8 cycle, (f) 10 cycle, (g) 12 cycle, (h) 15 cycle, and (i) ideal orientations of the fcc rolling texture along
β
-fibre. It should be noted that some of the data can be found elsewhere
17)
.
Fullsize Image