Abstract
The effect of anodizing time on the multiscale porous structure of the inner wall of the microchannel produced in a titanium alloy body has been investigated. The microchannel was produced by a powder-metallurgical process in which a titanium-powder compact containing thin aluminum wire was sintered at a temperature above the melting point of aluminum. During sintering, microscopic infiltration of molten aluminum into the porosity of the compacted titanium powder and subsequent diffusion of aluminum into the titanium powder particles brought about the formation of a microchannel lined with a Ti–Al alloy layer in the sintered body. The inner walls of the microchannels with uniform composition, Ti–18.0(±1.8) mol%Al, were provided for anodization experiments. When the anodizing time was in the range from 1.8 to 28.8 ks, the structure of the anodic oxide film was nanotube array. Each specimen had a microchannel several hundreds of micrometers in diameter, inner-wall asperities of several tens of micrometers in size, and a nanotube array structure of the anodic oxide film. In the specimen anodized for 59.6 ks, on the other hand, the nanotube array had changed to a different structure resembling that of nanoporous metals produced by dealloying.
This Paper was Originally Published in Japanese in J. Japan Inst. Light Metals 67 (2017) 589–594.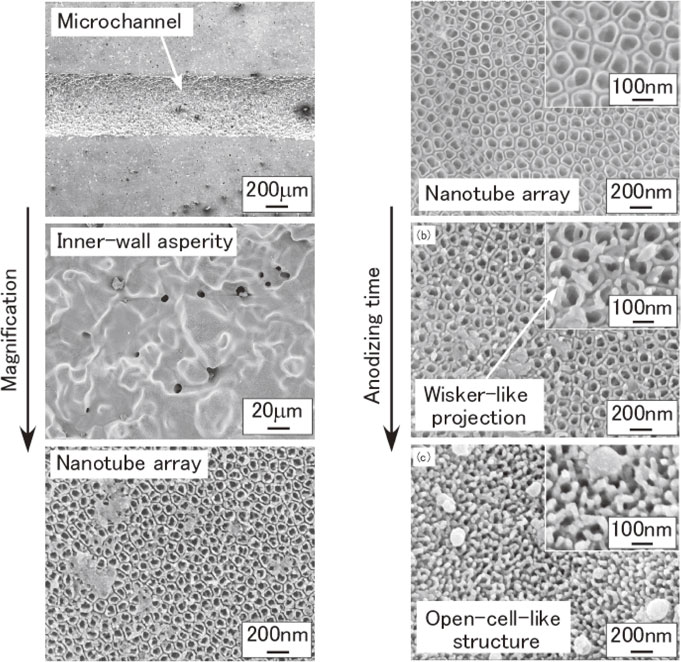 Multiscale porous structure and structure change in nanoporous anodic oxide film during long-time anodization.
Fullsize Image