Abstract
NiO/SBA-15 catalysts modified by CeO2 were synthesized and studied for the hydrogenation of CO2-rich gas. Effect of CeO2 promoter on the physicochemical properties of the catalysts was investigated by BET, XRD, Raman spectroscopy, SEM, TEM, H2-TPR and CO2-TPD methods. The 4 mass% CeO2 addition improved reduction and dispersion of Ni, resulting in its higher activity in methanation, reaching CO2 conversion of 90% at 350°C. Furthermore, the performance of the prepared catalysts in methanation reaction was enhanced by adding small amount of CO (1 mol%) in the feedstock.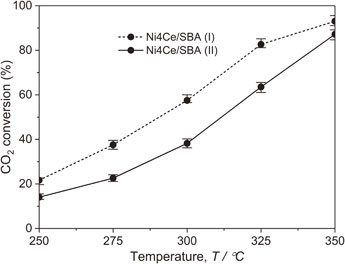 Fig. 11 CO
2
conversion in methanation of mixture of 19 mol% CO
2
with 1 mol% CO (case I - dashed lines) and with 1 mol% N
2
(case II - solid lines) on Ni4Ce/SBA catalyst.
Fullsize Image