Abstract
The applications of high-strength martensitic steels in engineering are limited due to concerns regarding delayed fracture. Recent experimental and theoretical studies revealed that the presence of mobile hydrogen moving toward cleavage crack surfaces in these steels plays an important role in delayed fracture. Although the accumulation rate of hydrogen is known to be affected by its concentration and diffusion coefficient, it is still unclear how these properties are influenced by the carbon content in martensitic steel. In this study, we estimated the hydrogen accumulation rate in martensitic steel under different carbon contents (0.395 and 0.787 mass%) and temperatures (300, 700, and 1,000 K) by calculating the hydrogen solubility and diffusion coefficient using computational methods, including density functional theory, molecular dynamics simulation, and finite element method. Results revealed that the hydrogen accumulation rate tends to increase with the carbon content.
This Paper was Originally Published in J. Soc. Mater. Sci., Japan 69 (2020) 134–140. All captions of figures and tables were slightly modified.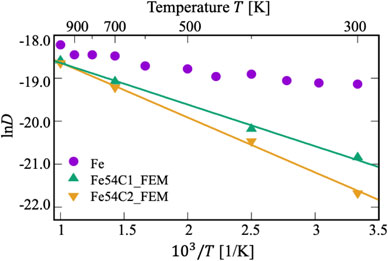 Diffusion Coefficient of Hydrogen along
c
-axis in Martensitic Steel.
Fullsize Image