Abstract
First-principles calculations were performed to investigate the effect of Fe substitution on the structural transformation of (Mn,Fe)CoGe and Mn(Co,Fe)Ge. The activation energy (barrier) between orthorhombic and hexagonal structures was estimated from the total energy of each of several virtual structures between them.
Fe substitution reduces the activation energy, and movements of both of Co and Mn are closely related to the reduction. Moreover, the calculation result for the Fe substitution at the sites of both Mn and Co indicates that Fe atoms randomly occupy Mn and Co sites.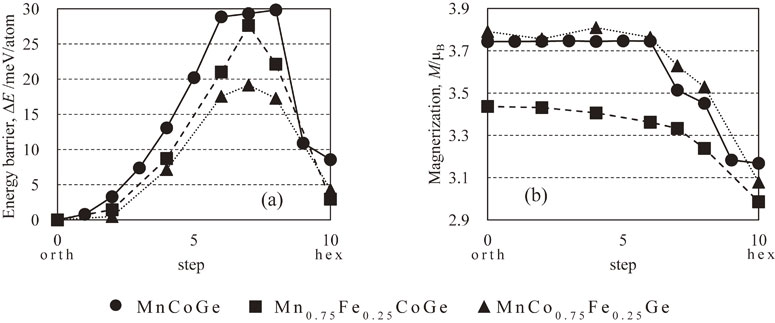 Fig. 3 Energy barrier (a) and magnetization change (b) during phase transition for the MnCoGe (circle), Mn
0.75
Fe
0.25
CoGe (square) and MnCo
0.75
Fe
0.25
Ge (triangle). The terms, "orth" and "hex", indicate orthorhombic and hexagonal structures, respectively.
Fullsize Image