Abstract
Introduction: Several studies have demonstrated improvement in low back pain (LBP) after decompression surgery for lower extremity symptoms in lumbar spinal stenosis (LSS); however, the influence of neuropathic disorders on LBP is uncertain. Aim of this study is to identify the features of motion-induced and walking-induced LBP in patients with LSS and to assess whether neuropathic LBP develops.
Methods: In total, 234 patients with LSS including L4/5 lesion were asked to identify their LBP. Subjects were classified into three groups: walking-induced LBP that aggravated during walking (W group), motion-induced LBP that aggravated during sitting up (M group), and no LBP (N group). Cross-sectional areas of the dural sac, lumbar multifidus, and the erector spinae were measured. Intramuscular oxygenation was evaluated with near-infrared spectrophotometer. Surface electromyography (EMG) and mechanomyography (MMG) were performed on the lumbar multifidus. Morphological, hemodynamic, and electrophysiological differences in the onset of LBP were evaluated.
Results: The prevalence of W, M, and control groups was 31.2%, 32.1%, 36.8%, respectively. Concordance between the laterality of LBP and leg symptoms including pain and numbness was 86.3% in the W group and 47.0% in the M group. Dural sac area was lower in the W group than in the M and control groups. In the hemodynamic evaluation, the oxygenated hemoglobin level was significantly lower in the W group than in the M and N groups. In electrophysiological evaluation of lumbar multifidus, the mean power frequency in EMG was significantly higher in the W group than in the N group. Amplitude in MMG was significantly lower in the W group than in the N group.
Conclusions: Neurologic disturbance in patients with LSS may be attributed to "neuropathic LBP." Neuropathic multifidus disorder plays a role in walking-induced LBP.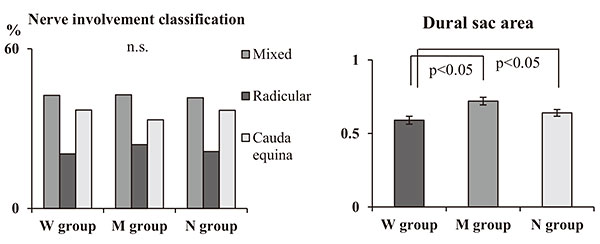 © 2017 The Japanese Society for Spine Surgery and Related Research.

SSRR is an Open Access journal distributed under the Creative Commons Attribution-NonCommercial-NoDerivatives 4.0 International License. Anyone may download, reuse, copy, reprint, or distribute articles published in the journal for not-for-profit purposes if they cite the original authors and source properly. If you remix, transform, or build upon the material, you may not distribute the modified material.
https://creativecommons.org/licenses/by-nc-nd/4.0/