Abstract
Introduction: There are patients with lumbar disc herniation (LDH) having contralateral sciatic symptoms although the mechanisms of this clinical feature are still not well understood. The purpose of this study was to investigate these mechanisms by microendoscopic findings.
Methods: Patients were performed microendoscopic surgery using over-the-top approach (ME-OTT), with laminoplasty, extirpation of herniation, and observation of the contralateral nerve root. The over-the-top approach was applied through the same incision from the herniation side. Clinical results were assessed according to the clinical scoring system established by the Japanese Orthopedic Association (JOA) score.
Results: This study consisted of five patients, with the average age of 55.6 years old. The mean preoperative JOA score was 13 points. Three cases were Grade II and two were Grade III degrees of disc herniation. Levels of herniation were one at L3-4 and four at L4-5. Remission of sciatic symptoms was obtained in all cases after surgery. The average and percent improvements (%IP) of JOA scores at 2 months after surgery were 27.8 points and 92%, respectively. By the approach from the herniation side using ME-OTT, image around the contralateral nerve root was obtained without radical intervention. By ME-OTT, redness of the nerve root and fibrosis around the symptomatic nerve root were identified, whereas inflammatory changes were not apparent on the ipsilateral nerve root.
Conclusions: Operative treatment of LDH with contralateral symptoms by ME-OTT was a useful procedure for decompression and observation of the affected nerve root. Asymptomatic disc herniation, "silent disc herniation," was considered at the herniation side since there were less inflammatory changes around the ipsilateral nerve root. In contrast, compression of dura toward the opposite side by disc herniation could have led to mechanical stress against the contralateral nerve root and triggered inflammation at lateral recess, resulting in radicular pain.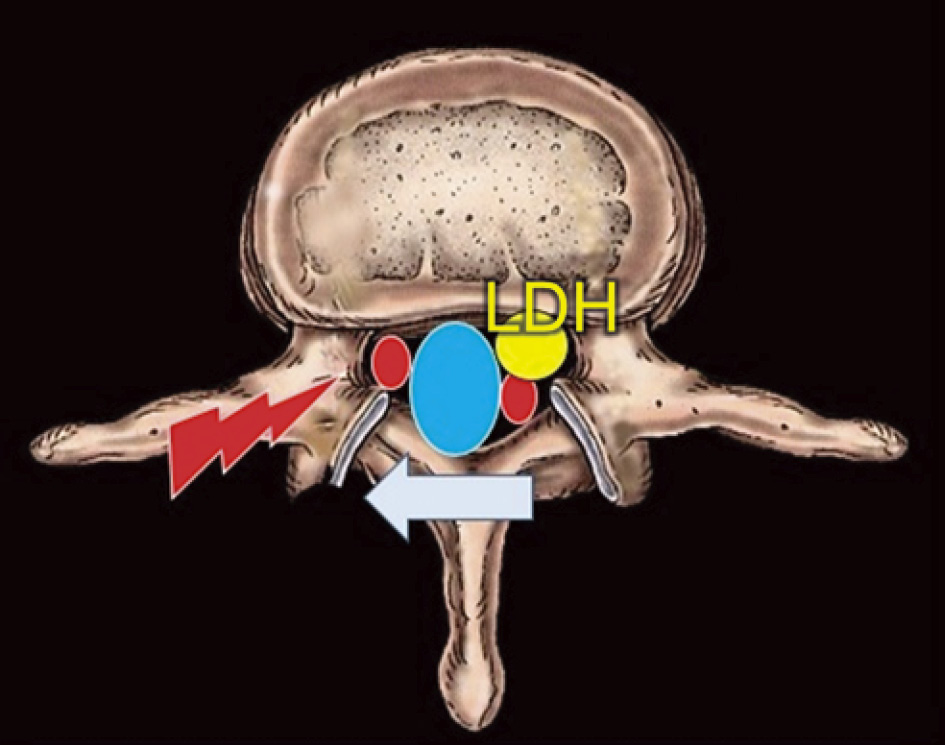 © 2018 The Japanese Society for Spine Surgery and Related Research.

SSRR is an Open Access journal distributed under the Creative Commons Attribution-NonCommercial-NoDerivatives 4.0 International License. Anyone may download, reuse, copy, reprint, or distribute articles published in the journal for not-for-profit purposes if they cite the original authors and source properly. If you remix, transform, or build upon the material, you may not distribute the modified material.
https://creativecommons.org/licenses/by-nc-nd/4.0/