Abstract
Intervertebral disc degeneration is a well-known cause of disability, the result of which includes neck and back pain with associated mobility limitations. The purpose of this article is to provide an overview of the known molecular mechanisms through which intervertebral disc degeneration occurs as a result of complex interactions of exogenous and endogenous stressors. This review will focus on some of the identified molecular changes leading to the deterioration of the extracellular matrix of both the annulus fibrosus and nucleus pulposus. In addition, we will provide a summation of our current knowledge supporting the role of associated DNA and intracellular damage, cellular senescence's catabolic effects, oxidative stress, and the cell's inappropriate response to damage in contributing to intervertebral disc degeneration. Our current understanding of the molecular mechanisms through which intervertebral disc degeneration occurs provides us with abundant insight into how physical and chemical changes exacerbate the degenerative process of the entire spine. Furthermore, we will describe some of the related molecular targets and therapies that may contribute to intervertebral repair and regeneration.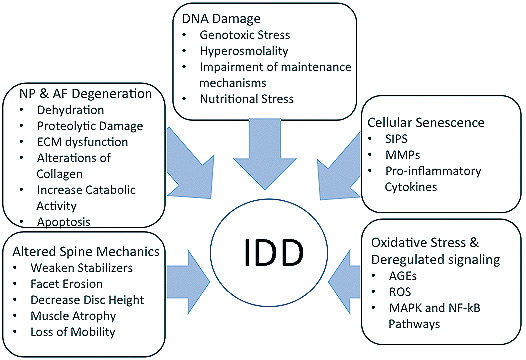 © 2019 The Japanese Society for Spine Surgery and Related Research.

SSRR is an Open Access journal distributed under the Creative Commons Attribution-NonCommercial-NoDerivatives 4.0 International License. Anyone may download, reuse, copy, reprint, or distribute articles published in the journal for not-for-profit purposes if they cite the original authors and source properly. If you remix, transform, or build upon the material, you may not distribute the modified material.
https://creativecommons.org/licenses/by-nc-nd/4.0/