Abstract
This was a study of the case of a 60-year-old woman who presented with a six-month history of headache and numbness radiating to the right arm. MRI revealed a fusiform intramedullary spinal tumor spanning C2 to C5 at the hospital where she first presented. As her right upper limb weakness had presented gradually, she visited our hospital after one and a half years. Neurological examination revealed muscle weakness in the right deltoid, but no sensory disturbance.
The patient underwent a C2-C6 total laminectomy and posterior midline myelotomy from the posterior median fissure of the spinal cord. The intraoperative histological diagnosis was glioma.
Pathological findings in low magnification demonstrated clusters of small uniform nuclei embedded in a dense and fibrillary matrix in hematoxylin-eosin staining (H.E.). On immunohistochemical staining, the tumor cells were weakly positive for glial fibrillary acidic protein (GFAP), but negative for the epithelial membrane antigen (EMA). The histopathological findings were consistent with the diagnosis of a subependymoma. However, the MIB-1 labeling index was of moderately high level up to approximately 8%.
In this case, we performed total resection because the tumor had rapidly increased in size and was of atypical form in histological findings.
It should be minded that some of subependymomas have a possibility of rapidly increasing in size with progressing neurological deficits.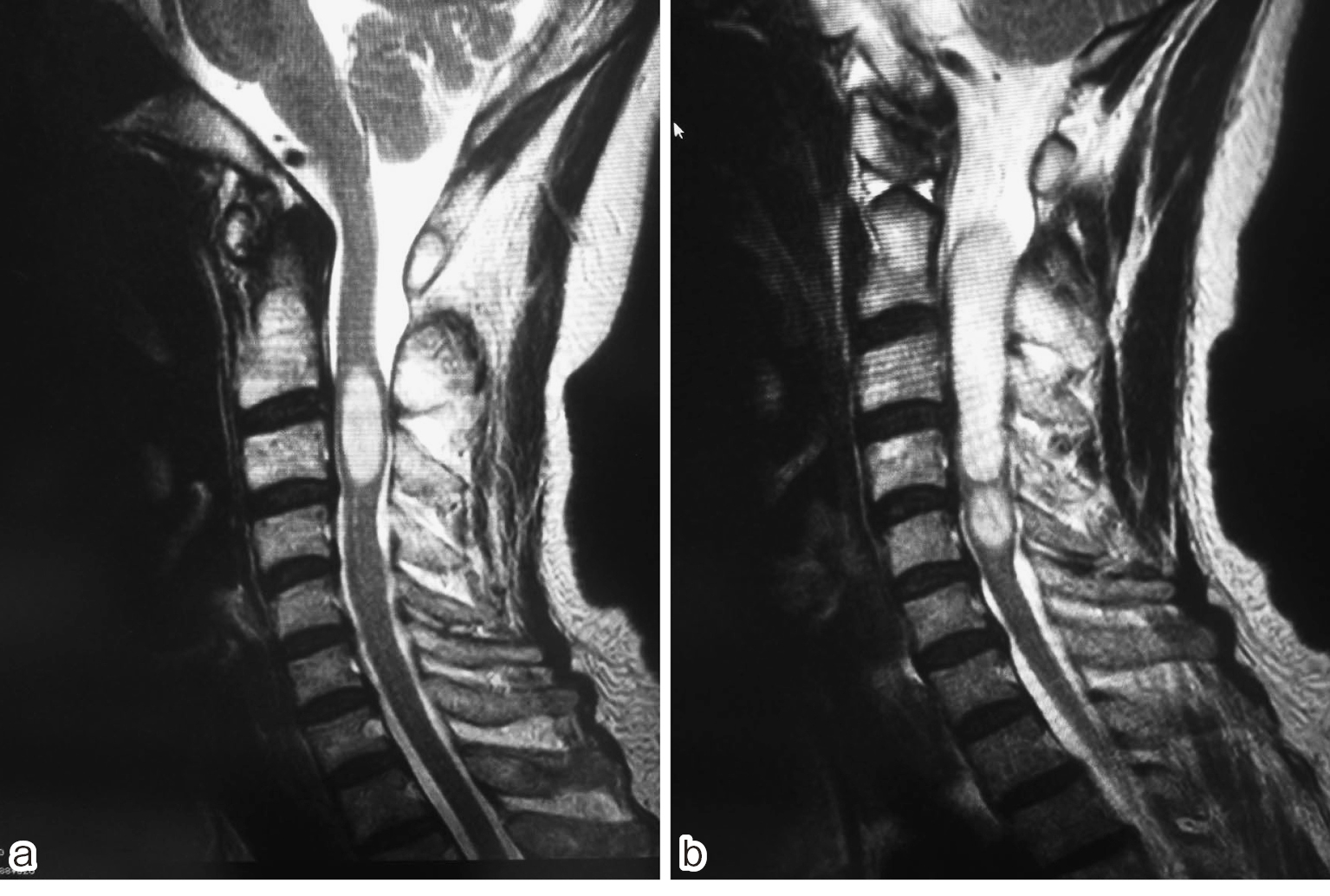 © 2019 The Japanese Society for Spine Surgery and Related Research.

SSRR is an Open Access journal distributed under the Creative Commons Attribution-NonCommercial-NoDerivatives 4.0 International License. Anyone may download, reuse, copy, reprint, or distribute articles published in the journal for not-for-profit purposes if they cite the original authors and source properly. If you remix, transform, or build upon the material, you may not distribute the modified material.
https://creativecommons.org/licenses/by-nc-nd/4.0/