Abstract
Introduction: Spinal subdural abscess (SSA) or empyema is a rare pathology and its exact incidence is unknown. Staphylococcus aureus (S aureus) is the most frequently responsible organism. The patients with SSA may have one or more predisposing immunosuppressive conditions. However, here we report a rare case of SSA following food intoxication without any significant comorbidities.
Case Report: A 42-year-old healthy man presenting with fever, severe low back pain (LBP), and trunk motion restriction was transferred to our hospital. He had been treated for an unknown fever after food intoxication in another hospital. Eighteen days earlier, he and his colleagues together ate raw horse meat and briefly boiled chicken breast. They all had food intoxication on the following day. Subsequently, our patient began to have a high fever and severe LBP. Laboratory data showed leukocytosis of 16,000/mm3. Also, the C-reactive protein was elevated to 26 mg/dL. The blood culture result was consistent with S aureus. Magnetic resonance imaging (MRI) showed focal epidural fluid collection that appeared contiguous with the subdural fluid collection through a dural defect in the axial plane on T2-weighted (T2W) images. An emergent surgery was performed. Frank pus was expressed from the epidural space as well as from the subdural space through the defect. The pus later grew S aureus. The patient was started on antibiotic therapy postoperatively. The patient completely recovered 1 month after surgery.
Conclusions: SSA following food intoxication is a very rare case. SSA can be identified with a small dural defect and the intrathecal fluid collection compressing the cauda equina in the axial plane on T2W magnetic resonance images. Having suspicion of epidural abscess and likewise subdural abscess and making an early diagnosis using MRI and an emergent surgery are important when the clinician notices a febrile patient with severe LBP and trunk motion stiffness.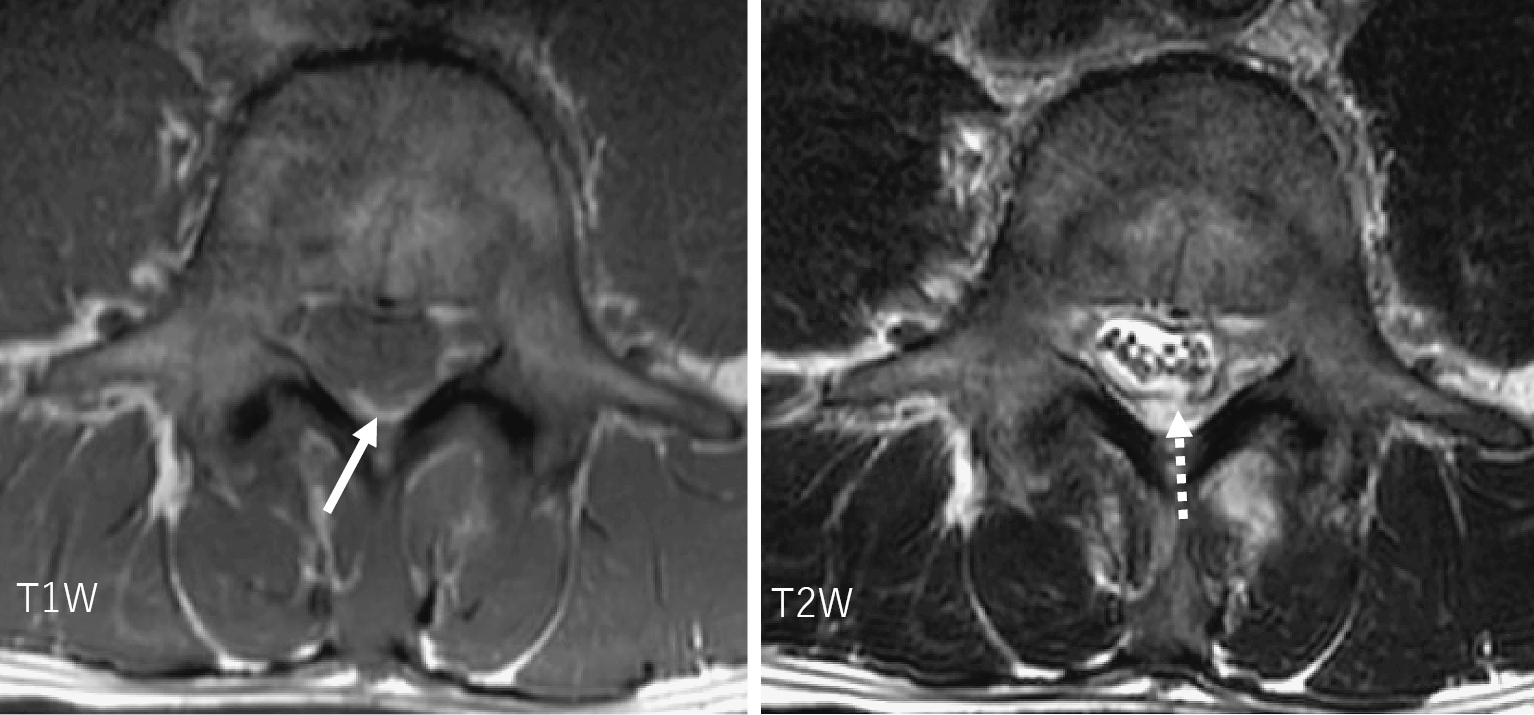 © 2019 The Japanese Society for Spine Surgery and Related Research.

SSRR is an Open Access journal distributed under the Creative Commons Attribution-NonCommercial-NoDerivatives 4.0 International License. Anyone may download, reuse, copy, reprint, or distribute articles published in the journal for not-for-profit purposes if they cite the original authors and source properly. If you remix, transform, or build upon the material, you may not distribute the modified material.
https://creativecommons.org/licenses/by-nc-nd/4.0/