Abstract
Introduction: C4 radiculopathy due to cervical spondylosis has rarely been reported as a cause of hemidiaphragmatic paralysis.
Case Report: A 70-year-old man presented with hemidiaphragmatic paralysis due to right C3-C4 foraminal stenosis. The diagnosis was made preoperatively from findings on plain chest radiographs, respiratory function tests, and electrophysiologic tests. All the patient's test results and symptoms improved immediately after surgical treatment for cervical spondylosis.
Conclusions: Although it may be difficult to make a correct diagnosis based only on radiological findings at the cervical spine, we should be aware of the existence of this entity and pay close attention to chest radiographs.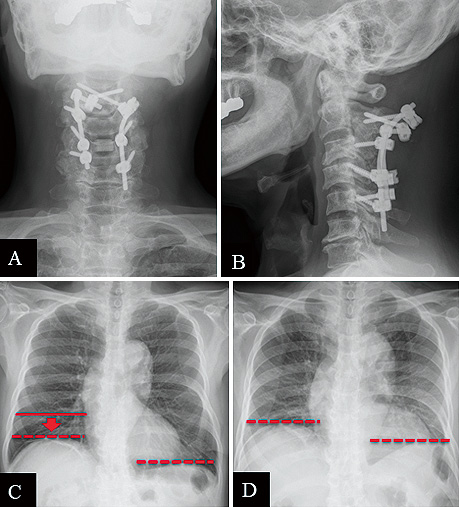 © 2019 The Japanese Society for Spine Surgery and Related Research.

SSRR is an Open Access journal distributed under the Creative Commons Attribution-NonCommercial-NoDerivatives 4.0 International License. Anyone may download, reuse, copy, reprint, or distribute articles published in the journal for not-for-profit purposes if they cite the original authors and source properly. If you remix, transform, or build upon the material, you may not distribute the modified material.
https://creativecommons.org/licenses/by-nc-nd/4.0/