Abstract
The package insert of the antithrombotic agent warfarin warns users of its interaction with azole antifungals. However, information on the frequency or degree of these interactions is limited. In particular, the time to onset of azole-mediated prothrombin time prolongation, expressed as the international normalized ratio (INR), is poorly characterized. Therefore, we retrospectively examined the INR in 29 patients administered warfarin with fluconazole (FLCZ), voriconazole (VRCZ), or itraconazole (ITCZ). INRs in 18 patients taking FLCZ and in 5 patients taking VRCZ significantly increased from 1.40 to 2.94 and from 1.95 to 2.89, respectively. The warfarin sensitivity index (WSI), calculated as INR/daily warfarin dose, also significantly increased from 1.06 to 1.89 with FLCZ and showed an upward trend from 1.13 to 2.23 with VRCZ. ITCZ had no influence on the INR or WSI in 6 patients. The INRs observed when warfarin was coadministered with azoles (Y) correlated significantly with those observed in the absence of azoles (X): FLCZ, Y=4.94X−3.96, r2=0.80; VRCZ, Y=2.13X−1.27, r2=0.93. Moreover, in all 8 patients with closely monitored INRs, the WSI increased within 1 week of FLCZ or VRCZ coadministration. In conclusion, FLCZ and VRCZ augmented the anticoagulant activity of warfarin. The INR should be closely monitored within 1 week of initiating FLCZ or VRCZ coadministration with warfarin, especially in patients with high INRs.
The antithrombotic agent, warfarin, shows large inter- and intra-individual differences in its pharmacokinetic and pharmacodynamic properties.1) Prothrombin time, expressed as the international normalized ratio (INR), is commonly used to adjust the individual maintenance dose of warfarin.1) Many drug-drug interactions also contribute to individual differences in warfarin dose. Sufficient understanding of these is therefore necessary for the safe and effective administration of warfarin.2) Details of interactions between warfarin and other drugs, such as the timing of onset or the degree of interaction, have yet to be elucidated. Therefore, it is difficult to decide whether or when INR should be measured.
The warfarin package insert in Japan and some other reports suggest an increased risk of bleeding following coadministration of warfarin and azoles.3–6) We recently encountered a patient at the Kyoto University Hospital, in whom the INR abruptly increased to >5 when a combination of warfarin and fluconazole (FLCZ) was administered. The inhibition of hepatic drug-metabolizing enzymes is described as the mechanism of this interaction between warfarin and azoles such as FLCZ, voriconazole (VRCZ), and itraconazole (ITCZ).3) However, we were unable to find specific information on the frequency of these interactions, their degree, or the time of onset of INR prolongation for each azole. To the best of our knowledge, there are no previous reports comparing the changes of INR following coadministration of azoles and warfarin in patients. Therefore, we retrospectively compared changes in the anticoagulant effects of warfarin in Japanese patients concomitantly administered with FLCZ, VRCZ, or ITCZ.
PATIENTS AND METHODS
Study Population
Patients who were administered warfarin in combination with FLCZ, VRCZ, or ITCZ from April 2010 to March 2013 were analyzed. Patients were excluded under the following circumstances: (1) No INR data; (2) Altered dosage of other agents that were considered highly probable or probable to interact with warfarin2) (e.g., miconazole oral gel, levofloxacin, and loxoprofen); (3) Increasing warfarin dosage after azole coadministration; (4) Observation of abnormal liver function. Liver function was considered abnormal if the aspartate aminotransferase or alanine aminotransferase level was≥the upper limit of normal×3, in accordance with the Common Terminology Criteria for Adverse Events v4.0.
Study Protocol
Patient age, sex, warfarin and azole dosing information, the reasons for administration of warfarin and azoles, and INR values were obtained from medical charts retrospectively. INR values were obtained within 2 weeks before commencing coadministration of warfarin and azoles, and within 2 weeks after ending the coadministration. If no INR values were available within 2 weeks for outpatients, the nearest data were selected. We selected each INR value in accordance with the following criteria:
(1) In patients already receiving warfarin, we selected the stable INR value before azole coadministration and the maximum value during coadministration.
(2) In patients already receiving both drugs, who had since stopped taking azoles, we selected the maximum INR value during coadministration, and the stable value during warfarin treatment alone.
Since warfarin dose was adjusted in some patients, we evaluated the effect of azoles using the warfarin sensitivity index (WSI),7,8) calculated as INR value/daily warfarin dose 1 d prior to the measurement of INR. In patients where INR values increased by >20%, azole coadministration was considered to have enhanced the effect of warfarin.
Statistical Analysis
Changes in INR and WSI were analyzed using a paired t-test. Values of p<0.05 were considered statistically significant.
Ethical Considerations
This study was performed in accordance with the Declaration of Helsinki and its amendments, and conducted under the authority of the Kyoto University Graduate School and the Kyoto University Hospital Ethics Committee (approval number E487).
RESULTS
Study Population
Eighteen, 5, and 6 patients received FLCZ, VRCZ, and ITCZ were analyzed in this study. Study subject characteristics in each group are shown in Table 1. Warfarin dose was decreased in 6 patients following the azole coadministration.
Table 1. Study Subject Characteristics
| Azole antifungal agent | FLCZ | VRCZ | ITCZ |
| --- | --- | --- | --- |
| Male/Female (n) | 9/9 | 2/3 | 5/1 |
| Age (years) | 59.5 (31–80) | 71 (26–85) | 66 (56–76) |
| Outpatient/Inpatient (n) | 9/9 | 2/3 | 3/3 |
| Azole dose (mg/d) | 100 (50–200) | 250 (100–400) | 200 (200–200) |
| Warfarin dose (mg/d): | | | |
| Warfarin alone | 1.75 (0.3–3.0) | 2 (1.0–2.5) | 2.5 (1.0–3.5) |
| With azole antifungals | 1.5 (0.3–3.0) | 1.75 (0.5–2.5) | 2.25 (1.0–3.0) |
| Reason for warfarin administration (n): | | | |
| Deep vein thrombosis | 3 | 3 | 2 |
| Pulmonary embolism | 3 | 1 | 1 |
| Atrial fibrillation | 3 | 1 | 1 |
| Portal vein thrombosis | 3 | 0 | 1 |
| Budd–Chiari syndrome | 3 | 0 | 0 |
| Splenic vein thrombosis | 2 | 0 | 0 |
| Inferior vena cava thrombosis | 0 | 0 | 1 |
| Internal jugular vein thrombosis | 1 | 0 | 0 |
| Reason for azole administration (n): | | | |
| Prevention against infections | 13 | 0 | 0 |
| Candidiasis infection | 3 | 1 | 6 |
| Aspergillosis infection | 0 | 4 | 0 |
| Febrile neutropenia | 1 | 0 | 0 |
| Oral leukoplakia | 1 | 0 | 0 |
Data are presented as incidence (n) or median (min–max). FLCZ, fluconazole; VRCZ, voriconazole; ITCZ, itraconazole.
Effects of Azole Coadministration on Warfarin's Anticoagulant Activity
Changes in the anticoagulant activity of warfarin following azole coadministration are shown in Fig. 1. The median coadministration period was 16 d (ranging from 2 to >30 d). Mean INR values increased significantly from 1.40 to 2.94 in patients taking FLCZ (p<0.001), and INR increased by >20% in 15 out of 18 patients. VRCZ also significantly increased mean INR values from 1.95 to 2.89 (p<0.05). In patients taking ITCZ, INR increased slightly from 1.86 to 1.92 (p=0.37). INR increased by >20% in 4 out of 5 patients prescribed VRCZ, and in no patients prescribed ITCZ. The mean WSI increased significantly from 1.06 to 1.89 in patients taking FLCZ (p<0.001). VRCZ coadministration was associated with a change in WSI from 1.13 to 2.23, which was not statistically significant. However, the WSI increased by more than 2-fold in 2 patients receiving VRCZ, from 1.35 to 3.08 and from 1.96 to 4.60.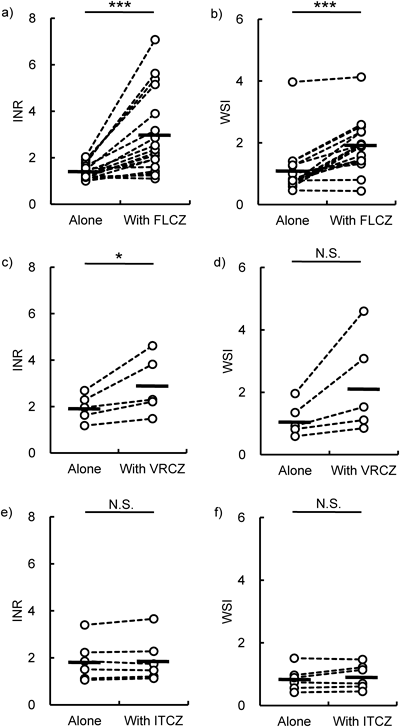 Fig. 1. Comparison of Prothrombin Time, Expressed as the International Normalized Ratio (INR) and Warfarin Sensitivity Index (WSI), in Patients Using Warfarin Alone or with Azoles
(a, b) Fluconazole (FLCZ). (c, d) Voriconazole (VRCZ). (e, f) Itraconazole (ITCZ). (a, c, e) INR. (b, d, f) WSI. Open circles represent INR or WSI values from individual patients. Each horizontal bar shows the mean value. * p<0.05, *** p<0.001.
INR or WSI with Warfarin Alone, and Warfarin Plus FLCZ or VRCZ
We examined the relationship of INR or WSI between during warfarin treatment and during coadministration of FLCZ or VRCZ. INRs obtained during azole coadministration (Y) showed a significant correlation with the values obtained in the absence of azoles (X): FLCZ, Y=4.94X−3.96, r2=0.80; VRCZ, Y=2.13X−1.27, r2=0.93 (Fig. 2a). In addition, WSI for warfarin only and warfarin plus VRCZ also showed a significant correlation (Fig. 2b). FLCZ showed a similar tendency to that observed with VRCZ, except for one patient with a low dose of warfarin (0.3 mg daily); in this patient, WSI was a high value when receiving warfarin alone, but did not increase with FLCZ coadministration.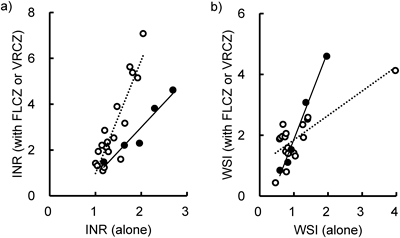 Fig. 2. Relationship of INR or WSI between during Warfarin Treatment and during Coadministration of FLCZ or VRCZ
Open and closed circles represent the values in patients administered FLCZ and VRCZ, respectively. The linear regression line, determined by the least-squares method, is shown as a dotted line for FLCZ and a solid line for VRCZ. (a) FLCZ, Y=4.94X−3.96, r2=0.80; VRCZ, Y=2.13X−1.27, r2=0.93. (b) FLCZ, Y=0.80X+1.04, r2=0.62; VRCZ, Y=2.90X−1.04, r2=0.99.
Onset of INR Increase after Coadministration of FLCZ or VRCZ
Figure 3 shows the changes in INR and WSI in 5 and 3 patients receiving FLCZ or VRCZ, respectively, whose INR was closely monitored within the first week of coadministration. The INR in 3 patients receiving FLCZ had increased to 297–347% of that observed with warfarin alone by days 4–6 after coadministration. The INR in 2 patients receiving VRCZ had increased to 172% of that recorded with warfarin alone on day 2 and to 167% on day 3; administration of warfarin was discontinued in one patient. The WSI had increased in all 8 patients within a week after starting azole administration, although the rate and onset of this increase showed large inter-individual variability.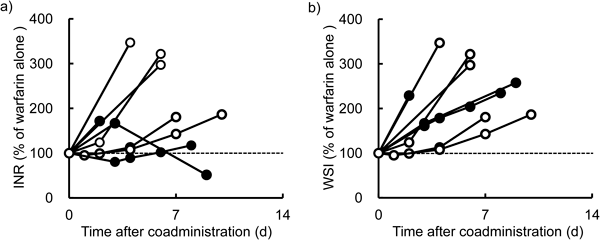 Fig. 3. Changes in INR and WSI after Coadministration of FLCZ or VRCZ
INR and WSI were expressed as % of their value before the coadministration. Open and closed circles indicate patients administered with FLCZ and VRCZ, respectively.
DISCUSSION
The findings of our study suggested that when administered with warfarin, FLCZ or VRCZ prolonged INR, but ITCZ had no effect (Fig. 1). Warfarin is a racemic mixture, and approximately 85% of S-warfarin is metabolized via CYP2C9.9) R-Warfarin is metabolized mainly via CYP1A2 and CYP3A4.10) Since S-warfarin is 5 times more potent than R-warfarin as a vitamin K antagonist,11) the inhibition of CYP2C9 is more important for the anticoagulation activity of warfarin. When 150–200 mg FLCZ was administered once daily, plasma concentrations of FLCZ were reported as 2.8–6.9 µg/mL in 11 samples.12) The therapeutic plasma concentration range of VRCZ is 1–6 µg/mL.13) The in vitro half maximal inhibitory concentration (IC50) values of FLCZ and VRCZ for the inhibition of CYP2C9 were 30.3 µmol/L (9.3 µg/mL) and 8.4 µmol/L (2.9 µg/mL), respectively.14) Although the IC50 was equivalent or slightly higher than the therapeutic plasma concentration, it is highly possibly that FLCZ and VRCZ interact with drugs metabolized by CYP2C9. The Food and Drug Administration (FDA) Draft Guidance for Industry classifies FLCZ and VRCZ as moderate and weak inhibitors of CYP2C9 in vivo.15) Hu et al.16) also reported an in vivo prediction model where FLCZ and VRCZ increased the area under the concentration–time curve of S-warfarin. In the present study, FLCZ significantly increased both INR and WSI (Fig. 1). VRCZ showed a significant increase in INR, but did not significantly increase WSI; this might be related to the small number of VRCZ cases in our study. Therefore, care should be taken during coadministration of VRCZ as well as FLCZ.
As shown in Fig. 2, if INR or WSI was controlled at a higher level by warfarin, both FLCZ and VRCZ produced a greater increase in INR or WSI. A therapeutic INR range of 2.0–3.0 is generally recommended in the United States,11) while a lower INR is recommended in Japan.17,18) The INR was <1.5 in about half of our patients examined, although the exact reason for this phenomenon was unclear. Therefore, an extensive prolongation of INR might be observed more frequently in patients with higher INRs than those present in our patients.
Prolongation of INR or WSI was observed within one week of commencing FLCZ or VRCZ coadministration, and WSI was increased according to the time after coadministration (Fig. 3). Prolongation of prothrombin time by warfarin was approximately 2-fold greater during VRCZ coadministration in 16 healthy subjects, and 13 subjects exhibited treatment-related adverse events.19) This report showed a greater influence of VRCZ than that identified in our study, where 2 out of 5 patients demonstrated a 1.7-fold increase in INR (Fig. 1). Although all subjects received VRCZ at 600 mg per day for 12 d in the previous report,19) patients in our study received at less than 400 mg per day for 2–21 d. Therefore, we considered that the dosage of azoles, as well as the coadministration period, affected the degree of drug interaction.
ITCZ inhibited CYP3A4 and CYP2C9 in human liver microsomes with IC50 values of 0.03 µmol/L (0.02 µg/mL) and >10 µmol/L (>7.1 µg/mL), respectively.14) Therapeutic plasma concentrations of ITCZ are reported as >1 µg/mL,13) which is 50 times of the IC50 for CYP3A4 and 1/7 times of that for CYP2C9. ITCZ is classified as a strong inhibitor for CYP3A in vivo, but not for the other CYP enzymes including CYP2C9.15) Therefore, ITCZ could influence the metabolism of R-warfarin, a less active enantiomer,2) but not S-warfarin. These findings were consistent with our results that ITCZ did not affect INR or WSI in patients receiving warfarin. On the other hand, a case report has indicated that ITCZ increased the concentration of S-warfarin, although the precise mechanism for this interaction was not elucidated.20) From the standpoints of medical safety, it is better to say that INR should be monitored after the coadministration of warfarin and ITCZ, as well as FLCZ or VRCZ.
In conclusion, FLCZ and VRCZ augmented the anticoagulant activity of warfarin. We recommend that INR should be closely monitored within a week after the coadministration of FLCZ or VRCZ. In particular, INR was prolonged by FLCZ or VRCZ to a greater extent in patients whose INR was controlled at a higher level by warfarin.
REFERENCES
1) "Full prescribing information for warfarin sodium.": ‹http://www.pdr.net/full-prescribing-information/coumadin?druglabelid=106›, cited July 15, 2014.
2) Holbrook AM, Pereira JA, Labiris R, McDonald H, Douketis JD, Crowther M, Wells PS. Systematic overview of warfarin and its drug and food interactions. Arch. Intern. Med., 165, 1095–1106 (2005).
3) "Japan pharmaceutical reference of warfarin tablets, 21st version.": ‹http://www.e-search.ne.jp/~jpr/PDF/EISAI33.PDF›, cited July 15, 2014.
4) Yeh J, Soo SC, Summerton C, Richardson C. Potentiation of action of warfarin by itraconazole. BMJ, 301, 669 (1990).
5) Mootha VV, Schluter ML, Das A. Intraocular hemorrhages due to warfarin–fluconazole drug interaction in a patient with presumed Candida endophthalmitis. Arch. Ophthalmol., 120, 94–95 (2002).
6) Schelleman H, Bilker WB, Brensinger CM, Han X, Kimmel SE, Hennessy S. Warfarin with fluoroquinolones, sulfonamides, or azole antifungals: interactions and the risk of hospitalization for gastrointestinal bleeding. Clin. Pharmacol. Ther., 84, 581–588 (2008).
7) Halkin H, Shapiro J, Kurnik D, Loebstein R, Shalev V, Kokia E. Increased warfarin doses and decreased international normalized ratio response after nationwide generic switching. Clin. Pharmacol. Ther., 74, 215–221 (2003).
8) Hosokawa M, Habu Y, Yano I, Fukatsu S, Kishimoto N, Yokode M, Katsura T. Effect of oxycodone on the prothrombin time controlled by warfarin in cancer patients. Jpn. J. Pharm. Health Care Sci., 38, 258–264 (2012).
9) Kunze KL, Wienkers LC, Thummel KE, Trager WF. Warfarin–fluconazole. I. Inhibition of the human cytochrome P450-dependent metabolism of warfarin by fluconazole: in vitro studies. Drug Metab. Dispos., 24, 414–421 (1996).
11) Ansell J, Hirsh J, Hylek E, Jacobson A, Crowther M, Palareti G, Palareti G. Pharmacology and management of the vitamin K antagonists: American College of Chest Physicians Evidence-Based Clinical Practice Guidelines (8th Ed.). Chest, 133, 160S–198S (2008).
12) van der Elst KC, Span LF, van Hateren K, Vermeulen KM, van der Werf TS, Greijdanus B, Kosterink JG, Uges DR, Alffenaar JW. Dried blood spot analysis suitable for therapeutic drug monitoring of voriconazole, fluconazole, and posaconazole. Antimicrob. Agents Chemother., 57, 4999–5004 (2013).
13) Andes D, Pascual A, Marchetti O. Antifungal therapeutic drug monitoring: established and emerging indications. Antimicrob. Agents Chemother., 53, 24–34 (2009).
14) Niwa T, Shiraga T, Takagi A. Effect of antifungal drugs on cytochrome P450 (CYP) 2C9, CYP2C19, and CYP3A4 activities in human liver microsomes. Biol. Pharm. Bull., 28, 1805–1808 (2005).
15) FDA Draft Guidance for Industry. "Drug interaction studies—study design, data analysis, implications for dosing, and labeling recommendations," February 2012: ‹http://www.fda.gov/downloads/Drugs/GuidanceComplianceRegulatoryInformation/Guidances/ucm292362.pdf›, cited July 15, 2014.
16) Hu ZY, Parker RB, Laizure SC. In vivo information-guided prediction approach for assessing the risks of drug–drug interactions associated with circulating inhibitory metabolites. Drug Metab. Dispos., 40, 1487–1494 (2012).
17) "Guidelines for pharmacotherapy of atrial fibrillation (JCS 2013).": ‹http://www.j-circ.or.jp/guideline/pdf/JCS2013_inoue_d.pdf›, cited July 15, 2014.
18) "Guidelines for management of anticoagulant and antiplatelet therapy in cardiovascular disease (JCS2009).": ‹http://www.j-circ.or.jp/guideline/pdf/JCS2009_hori_h.pdf›, cited July 15, 2014.
19) Purkins L, Wood N, Kleinermans D, Nichols D. Voriconazole potentiates warfarin-induced prothrombin time prolongation. Br. J. Clin. Pharmacol., 56 (Suppl. 1), 24–29 (2003).
20) Miura M, Takahashi N, Kanno S, Kato S, Nara M, Itoh M, Saitoh H, Yoshioka T, Kameoka Y, Fujishima N, Tagawa H, Hirokawa M, Sawada K. Drug interaction of (S)-warfarin, and not (R)-warfarin, with itraconazole in a hematopoietic stem cell transplant recipient. Clin. Chim. Acta, 412, 2002–2006 (2011).