Abstract
Hydrogen absorption into steel during the sacrificial dissolution of zinc and zinc coatings was investigated using the proposed hydrogen permeation method. The amount of absorbed hydrogen was small when the zinc coating was intact, but increased markedly at the onset of sacrificial dissolution of the zinc coating. The amount of absorbed hydrogen following zinc sacrificial dissolution was well-correlated to the zinc dissolution rate and was larger than the amount absorbed by iron corrosion in the entire pH range. Hydrogen evolution and absorption were inhibited by the deposition of zinc compounds such as hydrozincite and simonkolleite. The results herein suggest that zinc coating promotes hydrogen absorption in severe environments that involve frequently exposure to rainwater or immersion in seawater. The method proposed in this study can be used to quantitatively evaluate the change in hydrogen absorption caused by zinc coating.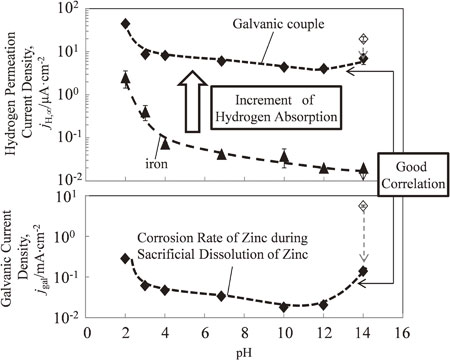 Mean value variations of
j
H, ∞
and
j
gal
of the iron-zinc galvanic couple (closed diamonds) and during corrosion of iron without zinc (closed triangles) with pH in steady state. Open diamond symbols indicate the maximum value in the test using a pH 14 alkaline solution.
Fullsize Image