Abstract
Microstructure and mechanical properties induced either by heavy cold rolling or multi-directional forging of Cu–Al alloy were investigated and compared. While both microstructures were developed mainly by a mechanism of mechanical twinning, the features were completely different. The former exhibited a typical heterogeneous nano-structure where "eye" shaped twin domains were surrounded by deformation bands and they were further embedded in low-angle lamellae. The latter also showed complicated feature where twin domains and ultrafine grains composed of equi-axed nano-grains were randomly distributed. Even while the latter possessed finer grain size, the former showed more superior mechanical properties, yield strength of 863 MPa and ultimate tensile strength of 1168 MPa than the latter, yield strength of 720 MPa and UTS of 870 MPa.
This Paper was Originally Published in Japanese in J. Japan Inst. Copper 57 (2018) 59–64.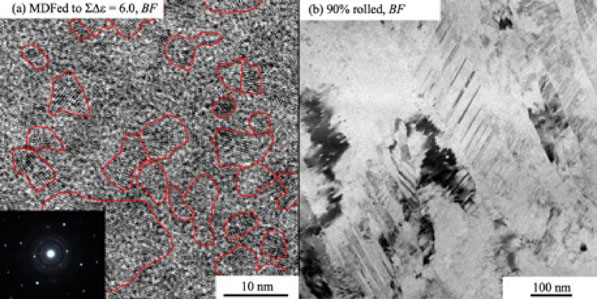 Different microstructures evolved in a Cu–7 mass%Al alloy by (a) multidirectional forging to ΣΔε = 6.0 and (b) 90% cold rolling. Areas having largely different lattice lines, which suggest evolved nano-grains, were indicated by circles in (a). Lamellae were subdivided by nano-twins in (b).
Fullsize Image